Innovative 'Tinder for brokers' launches | Insurance Business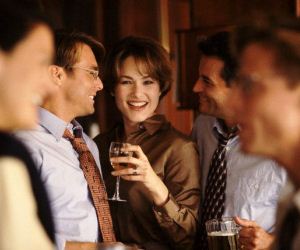 It has been called by some the Tinder for finance professionals and, following its successful launch in Melbourne last week, we could be hearing a lot more about networking app N3.
Founded by mortgage broker Edwena Dixon following frustration with the way networking is done at financial services events, the app allows users to scan the room to find suitable conversation partners in the right industries.
"Networking in general is a vital survival skill in the financial services industry, and one where a great deal more progress needs to be made," Dixon told
Insurance Business.
"The trouble with networking the old way is that it's time-consuming, results are uncertain, and it takes a great deal of nerve to keep introducing yourself over and over again, never knowing when you'll finally hit the jackpot.
"Many finance professionals have given up on networking, feeling that it's not worth the time or trouble.
"N3 enables you to 'search the room' for your ideal networking matches, without ever saying a word to anyone. Then once you've found the right people, you have their picture, and a name, to help you break the ice and give your conversation the kick-start that it needs."
N3, named for Networking in 3 dimensions, launched last week with an event in Melbourne which saw former
Ansvar
Insurance CEO, John Peberdy, give the keynote address.
"The launch event was a great night which was enthusiastically received by all attendees," Dixon continued.
"The keynote speech by John Peberdy and the five person panel discussion were both thoroughly enjoyed, and the app-driven networking proved to be every bit the networking breakthrough that everyone had hoped.
"The room was buzzing with conversation and the app worked beautifully as it facilitated introductions and 'broke the ice' for easy, nerve-free networking.
"Many attendees have already put their names down for tickets to the next event, and there's no question that the N3 launch is the beginning of a major breakthrough in finance industry networking."
Dixon noted that "only a modest number of insurance brokers," attended when compared with other sectors of the financial services industry but the feedback so far has been positive.
"The verbal and written feedback from the insurance brokers who have spoken to us since the event has been overwhelmingly positive. There's no question that insurance brokers can find their ideal networking matches through at N3 events."
Dixon stressed that while some aspects of the financial services industry are good at integrating younger workers into their business, the N3 app will allow new entrants to thrive at events across a range of industries.
"There are certainly individuals and organisations that do some great work in this area, but as a whole, newer entrants to the industry are often left to find their own way, or in other anecdotal cases, they are mentored with advice that is applicable to those giving the advice… people with 10 or more years of experience, but not the right advice for them as new entrants.
"Younger and new-entrants need to be proactively developing their own networks, and that's exactly what N3 facilitates."
Are the comparisons to dating app Tinder valid? Dixon said there is one key difference.
"The comparison is fair in some ways, in the sense that it allows you to 'check out' a large number of potential 'matches' in a very short space of time.
"There is, however, no 'swiping' involved!"