Insurance losses from bushfires continue to climb | Insurance Business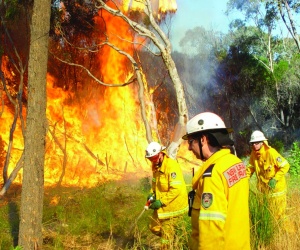 Insurers have received around 855 claims to a value of more than $93m in losses due to the bushfires sweeping across NSW, according to the ICA, and more are to be lodged this week.
The ICA has sent a team of disaster specialists to the Springwood recovery centre to help bushfire policyholders with questions about their insurance claims.
ICA CEO Rob Whelan said insurance assessors were also starting to review claims, and would continue to assess the damage once emergency services allowed them access to affected areas.
Whelan said the situation in the Blue Mountains remained uncertain, with fires still raging and more properties potentially vulnerable.
"The ICA and insurance companies are focusing on helping policyholders affected by this catastrophe," Whelan said.
"All insurers are prioritising bushfire claims, and I urge anyone who knows they have been affected to contact their insurer as soon as they can to lodge a claim, even if they are not yet sure of the extent of the damage.
"The ICA's team at the Springwood recovery centre [Springwood Sports Centre, 85 Macquarie Rd] is there to answer questions about the claims process, and help policyholders make contact with their insurer.
"The ICA is also liaising closely with local and state government agencies, emergency services and community groups to help identify issues and resolve them as swiftly as possible."
The ICA said the bushfires are timely reminder for West Australians to prepare their properties for a high risk of bushfires this spring and summer.
"WA has already experienced some small bushfires in the past few weeks. The large fuel loads in many parts of the state, coupled with anticipated warmer days and nights, means a difficult bushfire season is likely.
"WA also faces a near-average cyclone season, which typically means seven cyclones will form off the coast. Even cyclones that don't make landfall can cause extensive damage."
"Households and businesses need to start preparing now – make sure your insurance is up to date and look at what you can do to prepare your property by using our bushfire preparation checklist."
Steps property owners can take include moving woodpiles or flammable materials away from your property; cutting back grass, shrubs and trees around your property, and clearing dry leaves from your gutter; contacting your local fire authority for guidance on the particular risk in your area and for advice on protecting your home; reviewing your home and contents policy to check it is up to date, preparing a room-by-room inventory of what your policy covers; and reviewing your sums insured to make sure it matches the value of your home and your contents; and checking that your vehicles are insured.