Insurer QBE's AGM overshadowed by climate activists | Insurance Business Australia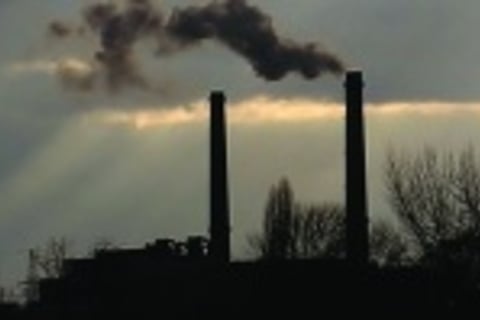 Australian insurer
QBE
could be anticipating some heated debate at its shareholder meeting today after an activist attack on Monday highlighted its support of the fossil fuel industry.
Investment activist group Market Forces hijacked the insurer's branding by plastering the slogan 'Made possible by QBE' over images of coalmines and natural disasters from the QBE headquarters in Sydney's CBD.
The group hoped the stunt would prompt the insurer to stop 'making climate change possible'.
"It's about highlighting their role in the perpetuation and expansion of the fossil fuel industry, which is contributing to climate change," said Market Forces' Dan Gocher, a former QBE analyst until last year. "Because as their slogan tells you, they make it possible."
Gocher said the inspiration came from QBE's own imagery, citing its 2012 annual report which had 'Made possible by QBE' on the cover, over an image of an operating coalmine.
In that report, the company said it was 'a major insurer of the mining sector in Australia' and insured 'coalminers in the Queensland Bowen Basin and New South Wales Hunter Valley'.
Gocher said Market Forces planned to target other insurers but had started with QBE as it had revealed some of its involvement in the sector.
He said they had already targeted banks and super funds so insurance companies were 'the next frontier',
The Guardian
reported.
Market Forces said it was asking Australian insurers to divest from fossil fuel in their investment portfolios, begin withdrawing from underwriting fossil fuel companies and play a role in the public conversation about climate change.
Gocher said Australian insurers lagged behind their foreign counterparts, who had recognised they were particularly exposed to the effects of extreme weather events.
French insurer
AXA
and Germany's
Allianz
had divested from thermal coal because of climate change, and in 2015
Munich Re
said it was convinced there were particular regions and hazards where climate change was already having a definite influence on losses.
Indeed, QBE annual reports show it paid US$76 million for storms that hit the NSW coast in 2014; US$144 million for storms Desmond, Eva and Frank in the UK in 2015; and US$108 million for cyclone Pam, which hit Vanuatu in March.
While the company cannot deny the imagery it has used previously, more recently in March of this year QBE Group CEO,
John Neal
, posted his views on climate change and insurance on LinkedIn, saying: "So to me 1) climate change is real, 2) it is posing a serious threat to our environment."