Insurer under fire for not refunding $1.5m levy over-collection to customers | Insurance Business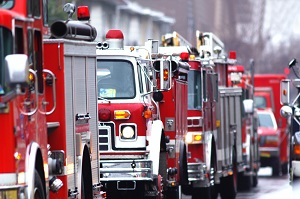 Fifty-five insurers with a Victorian fire services levy over-collection have agreed to refund $10.8m back to policyholders – apart from
CGU
, and this could potentially lead to court proceedings.
The Victorian Fire Services Levy Monitor, Professor Allan Fels said CGU had the second largest over-collection amount - nearly $1.5m - but has not yet made any refunds to its customers and had not yet participated in the resolution process as the other 55 insurers had.
CGU told
Insurance Business
that it refunded the money to the fire service, as it felt this was the right thing to do.
CGU head of corporate affairs David Grabau said: "CGU was an early mover on its fire service levy over-collection and paid these funds directly to the Country Fire Authority in early March. We are confident we have done the right thing by moving quickly to direct all fire service levy funds collected to the Victorian Country Fire Authority. The CFA does a remarkable job in protecting our local communities and our customers would see it as appropriate to direct to FSL funds to the fire services. CGU's over-collection was less than $10 per customer."
The Victorian Fire Services Levy Monitor Deputy Monitor is meeting representatives of CGU in a further attempt to reach an administrative resolution of its over-collection, as has been reached with all other companies. In the absence of progress in that direction, the formal investigation into CGU's over-collection will continue, with consequential court proceedings a possibility.
Fels said CGU's position on over-collection of Victorian FSL "seems at odds with its participation in arrangements when Western Australia's FSL was abolished at the end of 2003".
"CGU signed up in 2002 to an industry 'letter of understanding' with the WA Emergency Services Minister to refund any excess FSL of $1 or more to relevant policyholders. I am advised that CGU did make refunds to residential home and contents policyholders under that arrangement,'' said Fels.
Fels secured agreements with the 55 insurance companies. This money was surplus to the amounts insurers were required by law to contribute to the Victorian fire services for 2012-13, the final year of the insurance-based funding scheme. Approximately 39,000 customers will receive refunds under the agreed arrangements.
Fels said the insurance industry "has done the right thing" by not holding on to the surplus FSL, which would have boosted their profits.
However, Fels also explained that over collection refunds did not necessarily have to be made unless the amounts 'per customer' were minor or the administrative costs of refunds would be disproportionately high.
He accepted a number of insurers with relatively small over-collections in total or per customer, or costly administrative difficulties in directing refunds back to ultimate policyholders through brokers or agent intermediaries, did not refund to customers. It was understood that refunds were impractical and insurers agreed to disburse these over-collections to designated organisations representing the interests of Victorian consumers of insurance.
Excluding CGU, which Fels said has the largest market share of all over-collecting companies, the next five largest insurers that over-collected all made refunds to customers; in total 62% of the over-collected amounts where refunded to individual customers, on average; and refunded to a total of 31,000 customers.
Thirty-four companies refunded at least some of their FSL over-collection to customers. These tended to be the companies with larger amounts of over-collection: the median over-collection amount of insurers who refunded customers was $143,496; whereas the median over-collection amount of insurers who did not refund was only $8,042.
The FSLM website sets out the undertakings and agreements reached to resolve over-collection.