Insurers bring smiles amid bushfire horror | Insurance Business Australia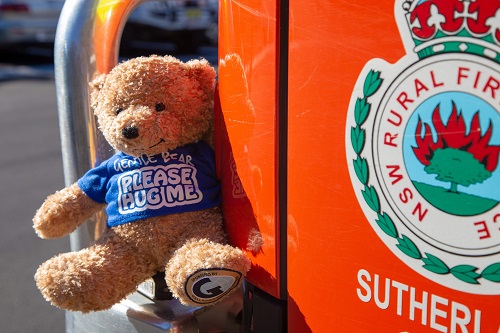 Gallagher Bassett (GB), in partnership with icare, has rolled out the largest Gentle Bear program in the initiative's 13-year history. Thousands of the cuddly, stuffed bears have been deployed to locations across fire ravaged, rural NSW. Almost 50 locations in the state received deliveries of the bears, designed to help affected individuals combat Post Traumatic Stress-related injuries.
Set up in 2007 in collaboration with the South Australian Police Department, the latest roll-out of the bears constitutes the largest ever. The soft toys have been given to children and volunteer firefighters affected by the bushfires, and John McNamara, GB Australia CEO, is proud of the role the bears play in supporting those children affected.
"Gentle Bear acts as an emotional aid for children in emergency situations like house fires or serious road traffic accidents," he said. "These bears distract a child's attention from the immediate, distressing situation by providing a reassuring and safe object to latch on to."
Drew Spilsbury, brand, communications and growth general manager at GB, explained to Insurance Business that GB and icare worked together to roll out the Gentle Bears in such a large way.
"Gentle Bear was already established in many locations around Australia, but we were looking for a way to launch the program in NSW that would have the maximum benefit to the community – then we made the connection to the NSW Rural Fire Service (RFS)," he said. "In total we've donated around 5,000 Gentle Bears in the state, enough to put a bear in every fire truck in regional NSW."
Read more: GB Gentle Bear grows the mo' for men's health
The bears provide something comforting to young children who have experienced the traumatic fires, or who may have lost their homes and possessions. The program is also aimed at supporting RFS volunteers who may too be suffering.
"Volunteer firefighters do an amazing job taking care of the community in times of crisis; however, the trauma associated with these situations can negatively impact the mental health of volunteers," said Britt Coombe, icare general manager of agency engagement. "As the workers' compensation insurer for NSW, we know that psychological injuries are among the costliest and most life changing."
The program is in its 13th year of operation and has gone from strength-to-strength as it has grown from bear-after-bear.
"We worked initially with the SA police to introduce the trauma teddies," explained Spilsbury. "It was really at first a SA focused program, providing a couple-of-hundred bears.
"We now have Gentle Bears in every state in Australia and also in locations around the world where GB works. We've provided them after school shootings in America and donated them to the Jane Goodall foundation in Africa – where you even have chimpanzees playing with them!"
The program has also been used in international airports across the country by the Federal Police, to be given to children entering Australia, sometimes for the very first time.
"When people are coming into the country, and when there is a delay for whatever reason, the children can be given a Gentle Bear while the parents get everything straightened out," explained Spilsbury. "I think it is really special that potentially a number of young new arrivals into Australia are being given a Gentle Bear as a welcome gift."
Read more: GB adds new member to its Gentle Bear family
In the current case, the soft bears are playing their part in responding to the unprecedented bushfires sweeping across the southern areas of NSW – with more children and RFS volunteers than ever before receiving the bears.
"We hope that Gentle Bear will not only benefit children who are affected by emergency situations and their families, but also the wellbeing of our RFS volunteers," said icare's Coombe. "We hope that the act of giving a Gentle Bear will help our volunteer firies feel like they are 'doing something' in a situation that can otherwise make them feel powerless."
In times like this and in areas affected, even something normally as inconsequential as receiving a soft, cuddly toy can make a huge difference.