Insurers take a beating with torrid start to year | Insurance Business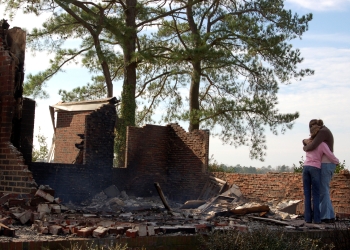 There have been flood and fires so far, and hopefully no sign of famines and plague, but the latter is little comfort to Australian general insurers who have received more than 65,000 claims with losses estimated at $674 million from four catastrophes in three states this summer.
The lion's share of these claims and losses stem from ex-Tropical Cyclone Oswald and the resulting floods in Queensland with the the Insurance Council of Australia (ICA) releasing updated figures showing 53,711 claims have been received so far totalling $553 million in insurance losses.
With Queensland bearing the brunt of the flooding, damage in New South Wales has been limited to a few areas with 8000 claims received mainly from Grafton and the Tweed and Northern River regions with losses estimated to be $20 million. New South Wales also faced bushfires in the Coonabarabran region with 1500 claims and totalling $12 million in losses registered to date.
Claims for the Tasmanian fires however will have greater impact on insurers with 1900 claims totalling $89 million in losses have been lodged with work underway by both the Tasmanian Government and insurers to begin cleaning up and rebuilding.
ICA chief executive Rob Whelan says more claims were likely to be lodged in the coming weeks and while insurers have received a high volume of claims the risks surrounding fire and floods had been anticipated. As such these risk were factored into commercial, prudential and logistical preparations.
Whelan has also repeated earlier comments about the need for flood mitigation measures highlighting its preventative benefits in towns such as Grafton.
"Flood mitigation in places such as Grafton has done its job and protected many communities. Without mitigation, Grafton could easily have been as severely affected as Bundaberg," he says.
"This again highlights the importance of investing in physical mitigation measures, such as levees, dams, barrages and drainage work, where it is feasible to do so. A relatively small investment to build a levee around a mid-size town may be recouped many times over the life of the levee."
Some individual insurers have begun to release their own figures for the same period with IAG's Australia Direct and CGU businesses receiving more than 13,700 claims from ex-Tropical Cyclone Oswald and expect costs to be between $120-140 million.
Further costs from the New South Wales, Tasmanian and Victorian bushfires are estimated around $35 million across 600 claims.
Australia was not the only country to suffer serious flooding with Aon's monthly Global Catastrophe Recap report stating that severe flooding in the Indonesian capital of Jakarta killed at least 41 people killed and over 100,000 homes were damaged or destroyed, leading to insured losses of more than (USD311 million).
Record rainfall in southern Africa resulted in flooding in Mozambique, Zimbabwe, Botswana, South Africa and Kenya while flooding also occurred in Brazil, Ecuador, Turkey, China, Philippines, and Sri Lanka during January.
While Australians begin to clean up and insurers count the cost Whelan says caution is still required throughout the remainder of summer.
"I note that many parts of Australia have not yet reached the peak of their local disaster seasons, and more cyclones, floods and bushfires remain a strong possibility."