Ken Keenan on balancing act and unchanged priorities | Insurance Business Australia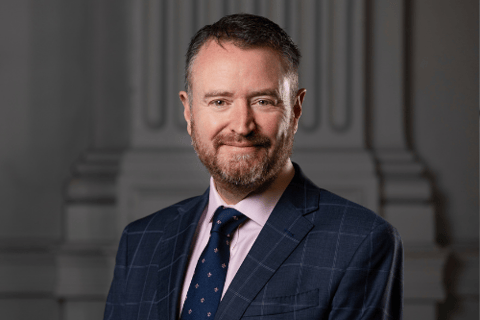 Anyone following Pen Underwriting – Australia on social media will know that the Sydney-headquartered business has been busy onboarding new people, and here "the optimist" chief executive Ken Keenan (pictured) shares what's driving the growth and what remains the same at the specialist underwriting agency.
"Every month we receive thousands of submissions," Keenan told Insurance Business, "and we work really hard turning these many submissions into new business opportunities, and thus we're winning in the marketplace. With this increased demand and opportunity, we've welcomed a number of additional underwriters to our team. That's supporting our solid growth in 2021.
"We're definitely seeing more submissions this year than we've seen in previous years, and that's probably a sign of the market. It's been still quite tough out there for brokers, and they're looking for alternatives for their clients."
Pen Underwriting – Australia, which also has offices in Brisbane and Melbourne, specialises in the low to medium hazard - or that space between plain vanilla risk and high hazard. According to the CEO, they are seeing many opportunities across all of Pen's lines of business.
The industry stalwart, whose insurance career began in 1985 in Dublin, noted: "We obviously operate in a delegated authority environment. For Pen – and I suspect it's the same for most underwriting agencies – it's very important to retain your existing underwriting facilities. Getting new delegated authority right now is quite difficult.
"Thankfully, generally we're in a good position, but it's a constant balancing act of growing the business and also achieving good underwriting results for our insurer partners. At a market level, I think some of the property classes are starting to show early signs of reaching a plateau. I think casualty has some more remediation to be done."
The balancing act doesn't end there, though. To get things right, Keenan said the company must see to it that staff, brokers, and Pen's capacity providers are all kept satisfied.
"Our core priorities are always the same – make sure the team is fulfilled and feel supported; to provide great service and outcomes for our brokers and their customers; and, finally, deliver good results for the insurance companies who support us.
"If we keep these three stakeholder groups happy, then everything else falls into place. And this applies at all times, whether in lockdown or normal times. The focus for us is always the same – look after our core three stakeholders."
The CEO went on to highlight Pen's technical expertise, the fact that everything the coverholder works on is individually underwritten, and a value proposition focussed on providing good outcomes.
Keenan told Insurance Business: "The proposition for us is to try and deliver a good service and good advice. Working from home, I don't believe that it's changed. We've got quite a number of positive comments back from our brokers about how we continue to deliver on those commitments.
"We've also been mindful that it's tough, so we're trying to be as flexible as we can. If there's a customer who needs us to take a slightly different approach, we're trying to do that, and just encouraging the team to have consideration for the broker, have consideration for the end client, to make sure that we're doing as much as we can to be fair."
Currently, Pen's roster in New South Wales and Victoria are all working remotely, while a hybrid set-up exists for the Queensland unit. At present, the growing agency is manned by around 60 people.
"We're operating well and we connect a lot," added the Zurich, RSA, and Gallagher alumnus whose industry experience spans Ireland, the UK, Canada, and Australia. "We're trying to have a bit of fun if we can, and it's really important to make sure we leave nobody behind. We've got people who live by themselves; we've got people who've got young kids. It's very challenging, so we're doing our best to try and make sure we're staying connected with everybody."
Moving forward, Keenan is excited about the overall opportunity at Pen, the journey of which began a couple of years ago. The insurance boss cited the company's clear vision of where it wants to go, as well as his positive outlook.
The CEO stated: "Everyone in the Pen team will tell you I'm the optimist. I think as we settle into whatever comes next, venues will open and people will start moving again and the economy will bounce back. Our value proposition to our brokers is, we believe, very sustainable. The market environment is generally stable. I think the market will continue to be quite disciplined for some time, and that's good.
"We have a really clear view about what we're trying to do and where we want to get to. Progress [may have] been a bit slower during the pandemic, but I very much look forward to getting back to that. That vision of where we're trying to get to hasn't changed. And we have an outstanding team and a great culture, and I think we can achieve many great things over the coming years."