Liability broker inks new tattoo policy | Insurance Business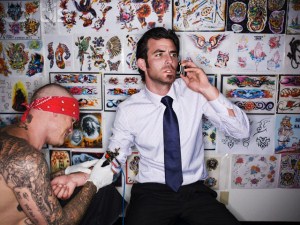 A liability insurance broker that specialises in the beauty industry has launched a new property insurance product for tattoo parlours after recognising the struggle building owners face finding cover.
Parmia Insurance's latest product, industrial special risks facility for tattoo parlours, is an extension of the liability insurance they have offered tattoo parlours for more than a year.
"The property (insurance) side is new," Parmia director Danny Gumm said. "It has taken a full 12 months of negotiations to realise the true exposures both from within the Industry itself, and the external factors as well."
The broker has strict risk management requirements that establishments must adhere to, "as the insurer is only keen to offer protection for the most professionally run businesses, with extensive evidence required on their operations".
"If they are unable or unwilling to provide this information, we are quite happy not to offer terms accordingly," Gumm said.
Parmia decided to extend cover after recognising that few insurers provide property insurance for tattoo parlours.
"Regrettably there has been evidence of criminal activity which has been involved within this Industry and we believe this is the main reason that so many insurers have elected to no longer offer terms," he said.
"This is not fair to those practitioners who are honest working parlours, with a true creative and artistic talent for what they do. We also saw a need to service this Industry for not only the parlours themselves, but all of those associated with this industry. For example, many property owners of perfectly fine commercial or retail businesses are struggling to meet their contractual and insurance requirements because they cannot find insurance due to the fact that they have a tattoo parlour as a tenant."
Gumm admits the tattoo industry has not had an easy time. A Belgium-based tattooist hit the headlines when he inked 56 starts on the face of teenager Kimberley Vlaeminck in 2009. Vlaeminck attempted to pin the blame on the tattooist, Rouslan Toumaniantz, claiming she asked for just three stars and that she had fallen asleep at the time. She later admitted to requesting all 56 stars and being awake during the entire process.
There have also been reported cases of tattooists misspelling names and tattooing intoxicated customers.
"The majority of such claims have come from the US, but yes, such claims have resulted. There are a number of different examples of where claims have been made on the basis of breaching copyright either by tattooing a major corporation's logo without the permission of that corporation, or otherwise by copying someone else's design without their permission.
"The policy we have organised is a broad medical malpractice and liability insurance policy and therefore is extensive in the coverage it provides, but each claim would be considered on its own merits subject to the terms and conditions."
Asked what the initial take up was like, Gumm said demand had been "overwhelming".
"The enquiry uptake has been huge, but the number prepared to provide the information required and accept the risk management procedures in place does mean that only some of these will be insurable under this policy."