Lloyd's of London offers reopening guidance | Insurance Business Australia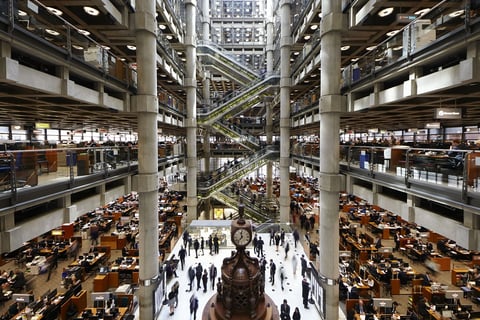 "Although the room will look a little different for a while, we feel confident that the right solutions are in place to ensure that face-to-face business in the market can continue efficiently, effectively, and safely."
Those were the words of Lloyd's of London chief executive John Neal, referring to the underwriting room, when the insurance marketplace issued guidance for its September 01 reopening. It outlined what will be accessible and what areas will still be closed, as well as what measures will have to be observed.
First off, only Lloyd's passholders with no COVID-19 symptoms will be permitted to enter One Lime Street. Entrance will be via Tower 1 or the main reception, while exit from the Lloyd's building will be through Towers 3 and 5.
Face coverings will be required in all public areas – including lobbies, lifts, and bathrooms – of the building. They should also be worn when walking around the underwriting room but can be removed when at the underwriting box.
To enable face-to-face trading, screens have been installed at each of the boxes. Seat allocations are detailed on floor plans published on the Lloyd's website. It was noted that "your usual seat may not be available" due to social distancing requirements.
Capacity has also been reduced to 45%, with a class of business timetable set for the working week. Mondays will be for financial and professional lines and casualty; Tuesdays – property, terrorism, and construction; Wednesdays – marine and aviation; Thursdays – all treaty reinsurance, kidnap & ransom, accident & health, political risk, bloodstock, energy, and reinsurance.
Mondays and Tuesdays also cover facultative reinsurance, while the underwriting room will be open for all classes on Fridays. Further information on how Fridays will be managed will be released in due course.
As for what's open, Lloyd's said the canteen will be operational but for pre-ordered takeaway food and drinks only. Seating areas in the coffee shop and restaurant are temporarily closed, but outside seating will be available by One Under Lime.
The upper basement cloakroom will also be open, as well as the wellbeing centre and shower facilities. The latter will be sanitised after every use. Also, additional bike racks have been installed.
Meanwhile the camera room, meeting rooms near reception and on G11, the Lloyd's shop, One Under Lime/Redemption Coffee, and Claire's barber all remain closed until further notice.
Additionally, Lloyd's put in place technological enhancements to complement what the physical underwriting room offers. Digital booths, for instance, are being tested while Wi-Fi on all underwriting floors has been improved as well.