Lloyd's of London unveils #SpeakUp campaign | Insurance Business Australia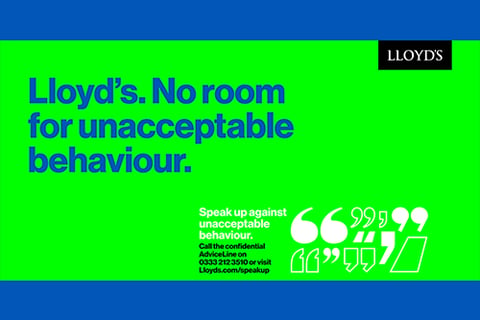 In September, a culture survey found that 38% did not know who to raise concerns to in the Lloyd's market. Now, Lloyd's of London has launched a campaign encouraging more people to speak up against unacceptable behaviour and providing clear guidance on how to do just that.
The #SpeakUp campaign features high-impact advertisements, banners, and vinyl posters including one that reads "Lloyd's. No room for unacceptable behaviour." The 24/7 advice line can be found on the material, and resources are also available on the insurance exchange's website.
"At Lloyd's, we expect all market participants to act with integrity, be respectful, and always speak up," stated Lloyd's chief executive John Neal. "I hope this campaign encourages more people to do so. You will be heard, you will be supported, and we will act, because no matter what form it takes, harassment is never acceptable.
"The ambition here is to make a positive difference in many people's lives, by empowering individuals to act and intervene when they witness unacceptable behaviour. I think everyone has a role to play. Lloyd's leadership is fully committed to transforming the culture at Lloyd's with shared values that will shape the behaviours, choices, and actions of everyone in the marketplace."