Lloyd's rocked by another major protest | Insurance Business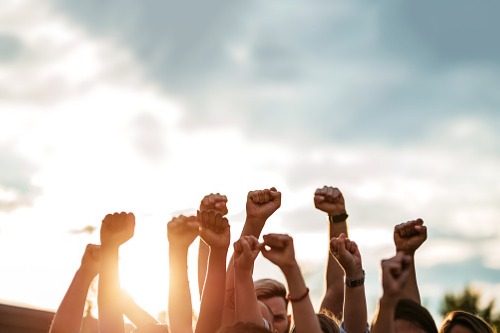 It's groundhog day for insurance professionals returning to work at Lloyd's headquarters after the lifting of lockdown restrictions as, across the UK this morning, local people gathered to demand Lloyd's of London and its insurers stop insuring all coal mines with immediate effect. The protest, which is taking place at Lloyd's HQ and in 12 other cities, is supported by the Coal Action Network (CAN).
Rebecca, an attendee at the Newcastle protest, noted that campaigners in the North East understand that coal is part of people's heritage, but not their future.
"Time and time again," she said, "we've made it clear, saying 'no' to open casts that would wreck the local environment. Now we stand in solidarity with the calls of people in Cumbria and indigenous people in Australia and demand that Lloyd's drop insuring coal mining, and start insuring our future instead."
Meanwhile, Andrew Taylor from CAN said that today's welcome of Lloyd's and its insurers back to the office with demands to "stop putting profit over a liveable planet" is a reflection of the demand for the marketplace and its insurers to rule out insuring coal projects today, not next year or by 2030.
In a Press release, CAN noted that Lloyd's has come under mounting pressure to stop its underwriting of fossil fuel projects from local people, scientists, and climate protesters across the globe. Only, last month, Insurance Rebellion protesters tipped a truckload of fake coal outside the Lloyd's of London HQ.
A key area of focus for protesters is the West Cumbria coal mine, which Lloyd's has refused to rule out insuring and which will be the first deep coal mine planned in the UK for over 30 years if the project continues. CAN claims that if this project goes ahead, it will help "lock the steel industry into burning coal and make a mockery of the UK's climate targets."
No insurer within the Lloyd's marketplace is currently insuring the West Cumbria coal mine but CAN noted they have so far ignored community requests to completely rule out insuring it and its associated infrastructure. Today's protest also highlighted the Adani Carmichael coal mine in Australia.
Taylor added: "Last month, Lloyd's of London cancelled a meeting to discuss its insurance of fossil fuels. Community members from Cumbria and Australia were keen to talk to Lloyd's about its ESG policy on coal, alongside people from the Pacific Islands whose homes are disappearing due to sea level rise. After waiting months, at the last minute Lloyd's backed out. That's why we've now decided to come to them.'