New container rules to boost short-term rates on cargo, insurers say | Insurance Business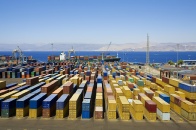 Insurance rates for cargo will likely see a short-term spike in the wake of global regulations that require verification of the weight of all containers prior to loading them onto ships, according to a
JOC.com
report.
The International Union of Marine Insurance, a London-based group, has expressed concern about the impact of the new regulation, an amendment to the International Maritime Organization's SOLAS convention. The amendment will take effect July 1.
"Not all shipping and logistics companies, nor shippers, will be ready for this new resolution and this is likely to affect the cargo insurance sector in the short term," the IUMI stated.
According to the IUMI, possible issues include increases in risk exposure because of supply-chain disruptions, the refusal of unweighed containers, and delays for time-sensitive or perishable cargo.
"We urge all stakeholders to prepare as best they can for this regulation as it is likely to cause short-term upheaval," said IUMI political forum chair Helle Hammer.
"More importantly, all stakeholders must be aware of the insurance implications – which can change from region to region – if they find themselves in breach of the new regulation, particularly ships' masters who are likely to come under pressure to accept containers without the approved weight verification."