NRL career ending injury shines light on inadequate cover | Insurance Business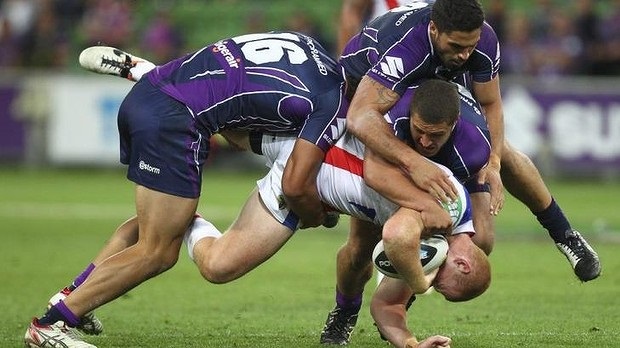 When Newcastle Knights NRL player Alex McKinnon was reportedly diagnosed a quadriplegic after sustaining a serious injury during a game in March, it yet again raised concerns about codes' reluctance to buy insurance for career-ending injuries for all their players.
McKinnon was involved in a three-man tackle by Jesse and Kenny Bromwich and Jordan McLean when he landed on his neck. Despite the horrific career-ending injuries that McKinnon and other sports professionals have endured, some codes still do not have adequate insurance.
The
Daily Telegraph
reports that neither the NRL nor the Rugby League Players' Association have insurance for career-ending injuries. Instead players are forced to rely on personal accident insurance which is typically two years' worth of lost income – but this is not enough for players who may need care for the rest of their lives.
Where codes do purchase insurance for career-ending injuries, they tend to only insure the highest paid players.
David Lamb, CEO of
Sportscover Australia
, a specialist sports and leisure insurer for over 25 years, tells
Insurance Business
that there is often a misconception that insurance is a big expense.
"There are cost pressures involved. Insurance is often down the list when it comes to these priorities but cover is available. The larger the pool, the more affordable the cover will be. Too often people want to make a short-term saving and minimise their expenses in running any business and insurance is usually one of them. You get what you pay for."
Spreading risk
Lamb says codes should and can insure the entire player roster rather than cherry pick the most valuable ones.
"The insurance industry would be able to respond to codes' insurance needs if it was across the roster and if codes were prepared to pay a reasonable price because insurance, by its very nature ,relies upon the spreading of risk to become affordable.
"Cover is available. Many of the codes do purchase it. The ones that have difficulties are the ones that have high impact collisions where significant injuries can occur and they choose to insure the higher-paid players only."
This is where brokers can play a part. Lamb advises brokers to encourage their clients to take out broad based cover with a per player cap across the entire playing roster. He says it is more saleable to insurers and will result in better protection for players.
"You can't predict who will be the next unfortunate victim of a terrible career-ending injury so you shouldn't restrict cover just to the highest paid players or those deemed most irreplaceable - every life of every player is valuable and worth protecting. The player representatives have a role too, and should insist on this cover being provided across all players if they truly want to protect the players.
"Whether that insurance comes at the expense of TV rights or of other areas is a matter of priorities."
It is not just rugby codes that are faced with issues regarding insurance for career ending injuries, and it is not restricted to sizeable clubs.
"There is a direct correlation between the cost of each contract, and the number of high-paid players insured," Lamb says.
"It can be a small association with only a few high-paid players and they will seek to insure them but will still face the same problems. If they are a large association with mostly amateurs, then the contracts are smaller and that cover is readily available and frequently purchased."
Knock-on effects of concussion
Sports professionals are at risk of a raft of injuries. In recent years there has been a growing focus on concussion and players returning to the field too soon after injury.
"We are seeing a spike in enquires about prevention and coverage [concerning sports where participants could be concussed] not just rugby following the publicity about concussion and large lawsuits against sports administrators and clubs. That's when people look at their cover and decide that more cover and better protection should be more of a priority."
Another trend is the value and propensity of litigation. Australia is the second-most litigious country in the world on a per capita basis, behind the US.
Lamb says people are more willing to sue.
Organisations tend to offer large benefits and compensation packages but once claims come, they find they cannot afford to pay insurance premiums and this affects participants, club members and volunteers and then the game becomes pricier and more expensive.
"If the club wants to provide significant cover and claims are going up then ultimately it increases the cost of that sport," Lamb explains. "If you have a series of bad injuries, down the track the sport could become uninsurable or uneconomic to insure and that's something no-one wants to see."
Photo source:
Sydney Morning Herald