NSW bushfires formally declared a catastrophe | Insurance Business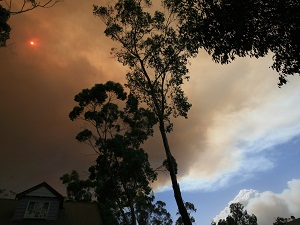 The Insurance Council of Australia last night formally declared a catastrophe for bushfire-affected regions of NSW in what is thought to be the worst set of blazes in the last 10 years.
The announcement came around 10pm last night. Just hours earlier, the ICA said it was monitoring the situation, which clearly worsened as the night went on, prompting the ICA's catastrophe declaration.
Fires have ravaged properties in a number of areas including areas in Blue Mountains, Lithgow, Armidale Dumaresq, Clarence Valley, Dungog, Gloucester, Greater Taree, Great Lakes. According to the Rural Fire Service website, bushfires in these areas are either under control or being controlled.
However, in some areas where fires are under control there are also fires that are out of control, including Clarence Valley, Hawkesbury, Cessnock, Kempsey, Muswellbrook, Uralla, Goulburn Mulwaree, Wingecarribee, Port Stephens and Wyong.
ICA CEO Rob Whelan said insurers were still assessing the scope of the damage, but a taskforce had been established to escalate the industry's response and the ICA had activated its disaster hotline - 1800 734 621.
"Insurers are standing by to handle inquiries and claims from policyholders," Whelan said. "I advise anyone affected by this disaster to follow the instructions of the emergency services and return to their properties only when it is safe to do so.
"At this stage the ICA is relying on information from the NSW Rural Fire Service and does not have firm damage estimates. Insurers will monitor the situation overnight and tomorrow, and I expect we will have a firmer grasp of the extent of the damage before the weekend.
"The ICA will be liaising with government agencies and emergency services, in particular the RFS, as well as local governments and state MPs, to assist with issues and inquiries."