NTI seeks to draw attention to truck fires | Insurance Business Australia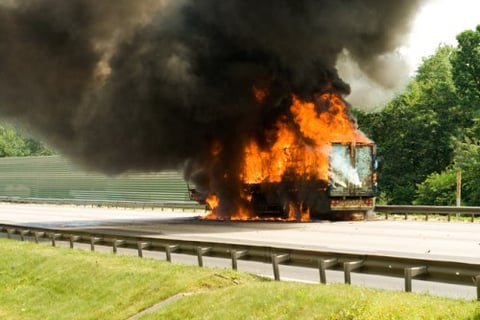 With summer approaching,
NTI
, a commercial motor insurance specialist, will cooperate with transport operators to raise awareness about truck fires, which are more common when the weather becomes hotter.
According to NTI chief executive Tony Clark, industry consultations revealed that the risk of truck fires can be minimized with proper planning and adherence to maintenance schedules.
"NTI has seen an increase in the number of fire claims, including engine fires, tyre, or brake fires and electrical fires… Unfortunately, a large number of these could have been prevented with better maintenance and inspections," he said.
High temperatures can lead to higher risk of fires when combined with worn brakes and bearings, loose wiring, and oil leaks. Fires often lead to total loss of the vehicle, raising claims costs and putting pressure on insurance, which could lead to higher premiums for policyholders.
"NTI encourages all truck owners and operators to spread the word of truck fire risks with their peers and to make safety the number one priority for themselves and their businesses," Clark said.
The insurer also gave several tips that can help businesses minimize truck fire risks:
Ensure maintenance schedules are up to date
Make sure fire prevention equipment and training is a core part of the business's risk management plan
Never smoke when near a vehicle carrying flammable or explosive materials, or when refueling
Related stories:
Aussie insurer NTI announces new product
NTI receives 5-star claims rating
Government urged to set up independent comparison website