'President Trump' as big a threat as terrorism | Insurance Business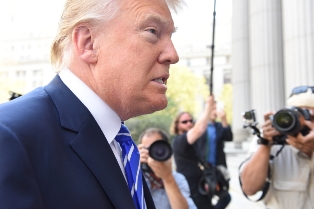 The possibility of the United States electing Donald Trump to the presidency later this year ranks alongside the rising threat of jihadi terrorism destabilising the global economy. according to a new report.
The
Economist Intelligence Unit
ranks risks which could disrupt the global economy and heighten security and political risks in the United States and ranked President Trump above the UK voting to leave the EU and alongside the terrorist threat.
Ranked out of 25, Trump's election victory scored a 12 as did the rising terror threat with the top risk, scoring 20, of China experiencing a "sharp economic slowdown."
The
Global Risk Assessment
backed presumptive Democratic nominee, Hilary Clinton, to win the elction which will be held in November but the prospect of President Trump could see dramatic shifts.
"The businessman and political novice, Donald Trump, has built a strong lead in the Republican party primary, and looks the firm favourite to be the party's candidate in the US presidential election in November," the report notes.
"Although we do not expect Mr Trump to defeat his most likely Democratic contender, Hillary Clinton, there are risks to this forecast, especially in the event of a terrorist attack on US soil or a sudden economic downturn.
"It is worth noting that the innate hostility within the Republican hierarchy towards Mr Trump, combined with the inevitable virulent Democratic opposition, will see many of his more radical policies blocked in Congress - albeit such internal bickering will also undermine the coherence of domestic and foreign policymaking."
Trump is no match for the potential damage an economic slump in China could have on the global economic landscape as the report stressed that the knock-on effect of Chinese economic turmoil could be disastrous.
"If China's economy slows by more than we currently expect, it will further feed the ongoing global commodity price slump (especially in oil and, in particular, metals), with a hugely detrimental impact on those Latin American, Middle Eastern and Sub-Saharan African states that had benefited from the earlier Chinese-driven boom in commodity prices," the report continues.
"In addition, given the growing dependence of Western manufacturers and retailers on demand in China and other emerging markets, a prolonged deceleration in growth there would have a severe knock-on effect across the EU and the US - far more than would have been the case in earlier decades."