QBE Australia celebrates Week of Giving | Insurance Business Australia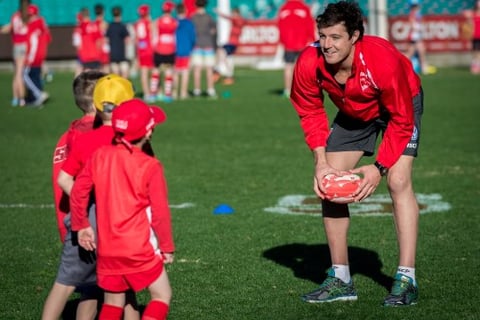 In the week leading up to Sydney's Round 20 clash between Sydney Swans and Port Adelaide at the SCG, QBE Insurance Australia has launched the Week of Giving to pay tribute to charities.
The awareness campaign featured seven QBE Foundation partners and charities and four Sydney Swan charities. Part of the awareness campaign is the auction of special edition runout T-shirts worn and signed by Sydney Swans players to raise funds. The auction will be held following the match this weekend.
Tim Plant, QBE Australia CEO, said the campaign was for recognizing the important work of those who have done so much to support the community.
"QBE's 30-year partnership with the Sydney Swans has put QBE front and center at every Swans game," Plant said.
"In QBE's Week of Giving, we want to celebrate our partnership by showcasing our charity partners, as well as raise some important funds along the way."
"The charity runout T-shirts will be worn by Sydney Swans players during the warm-up as well as for the much-anticipated traditional curtain-raiser between the Sydney Swans Legends and QBE brokers."
"We'll also use the SCG big screens to help raise awareness of these organisations and showcase the important work they do."
Andrew Ireland, Sydney Swans managing director, said the Swans are excited to be part of QBE's Week of Giving.
"QBE has been part of our Sydney Swans family for the past 30 years. It's a wonderful milestone that we're looking forward to celebrating in Round 20 at the SCG," Ireland said.
"For QBE, to use this match to highlight the work of charities speak volumes about the kind of organisation QBE is − they've supported us for 30 years and also give to the community through their Foundation and charity work. We're really looking forward to being part of QBE's Week of Giving."
QBE will also host special guests of the charities in a match-day experience to be held in the QBE Clubroom at the SCG.
QBE's Week of Giving gives recognition to the following charity partners Brainwave, Camp Quality, Guide Dogs Australia, The Big Issue, The Kids' Cancer Project, The McGrath Foundation, Habitat for Humanity, The Cerebral Palsy Alliance, The Go Foundation, The Jodi Lee Foundation, and redkite.
For information about the abovementioned charity partners, visit:
QBE Australia website
.
Related stories:
Major insurer celebrates 30 year AFL partnership
QBE Insurance Australia sponsors regional opera tour