QBE shareholders to seek class action compensation | Insurance Business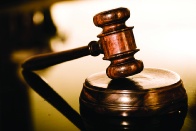 Law firm Maurice Blackburn Lawyers is investigating a shareholder class action against
QBE
Group after the company's share price troubles last year.
The law firm says it has been approached by shareholders concerned that QBE did not inform it quickly enough of its troubles with the North America business.
Class Actions Principal at Maurice Blackburn, Jacob Varghese, says the firm was approached by shareholders concerned QBE was 'less than frank and timely' in informing the market of the troubles in its North American business, which he said were at the heart of last year's surprise loss.
"If QBE has breached its obligations or misled the market, investors that bought QBE shares in the period leading up to 9 December 2013 paid an inflated price for those shares. Those investors will be entitled to compensation.
"Together with International Litigation Funding Partners, we are offering QBE shareholders the opportunity to register their claims and receive the support of litigation funding. If there is enough shareholder interest, it is very likely that QBE will face a class action.
"Shareholder class actions are an essential part of Australia's corporate governance landscape. They are an important mechanism for investors to make themselves heard in the boardroom.
"Full and honest disclosure is a small price to pay for access to the superannuation and life savings of Australians.
"The vast majority of Australian companies are conscientious about their disclosure obligations. But to keep the market fair for those that do play by the rules, we all have an interest in penalising the ones that don't. Our class actions do that."
QBE Group revealed net losses of AUS$280m in its full year results for 2013 on 9 December last year, mainly due to claims provisioning, intangibles, and goodwill write downs in North America.
The result announcement followed QBE's request on Friday 6 December for the ASX to halt trading on ordinary shares to allow the insurer time to finalise its analysis of information and review by the board, predominately relating to its North American operations.
The law firm claims the market responded to the loss by wiping US$4bn off the market value of QBE in a day, with the stock plummeting by 22.3 per cent the day the announcement was made, closing $3.45 down at $12 – the biggest single day fall for QBE in the past 12 years.
It added that the stock continued to fall the following day, shedding another $1.18. In total, QBE shares fell 30 per cent over two days.
A QBE spokesman said: "QBE has rigorously complied with its continuous disclosure obligations at all times. No proceedings have been issued in relation to any proposed action, and QBE will not be making any further comment at this time."