Real Life: How brokers made a difference in the NSW bushfire zone | Insurance Business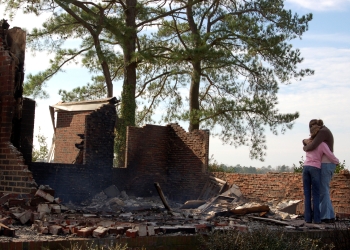 How can insurance professionals make a difference to communities ravaged by bushfire? Kate Fairley's story of helping victims of the NSW bushfires offers some suggestions.
"Be careful," they said.
"Don't hassle them, these people have lost everything. They won't want to talk to you. They'll just think you're being opportunistic. Don't give them false hope. You won't be able to reach anybody, they'll all be scattered. You're wasting your time."
And my favourite: "You're just one person Kate, how are you going to help them?"
Those are just some of the comments made by industry professionals when I decided to travel to the Blue Mountains to help those affected by the bushfires with their insurance claims.
However, when I told people who don't work in insurance what I was doing, the response was very different:
"That's incredible Kate, good on you! If that ever happened to me I wouldn't know the first thing about any of it and would love someone like you to be there for me. I'm sure just explaining the process will take away some of the stress."
Who do you think was right?
First encounter
I drove into Winmalee on a Saturday morning. After explaining who I was and being waved through by the SES roadblock, I turned onto Buena Vista Road. It was covered in the blue PVA glue sprayed by the Australian Defence Force – still roaming around in their fatigues. The first person I spoke to was Shondell, whose husband Jeremy operates a business from the shed in the backyard.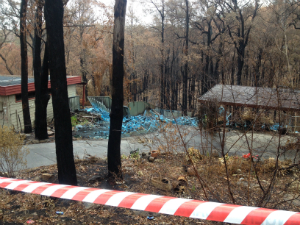 "You're here about insurance? Fantastic!" she said. "We only had insurance on the car and my husband's tools would have been covered if the car was parked here, but they were in the shed while he was at a road show so we can't claim anything. But we've heard that you can't claim anything in outbuildings anyway."
This was exactly why I'd come – to help people with their claims, but also to correct misinformation. I explained that as long as the outbuildings comply with council regulations, it is actually possible to cover tools in the shed with the right policy.
"Would you like me to connect you with a local broker who can help you decide what insurance you'll need once he's started to replace things and built up his stock levels again?" I added.
"Absolutely!" she said as she scribbled down a contact number. "Actually, I think Jeremy already uses a broker in WA for the car, can they still help us with this?"
"Of course they can," I responded. "If you already have a relationship with a broker then you should most certainly give them a call, it doesn't matter where they're located unless you'd prefer someone closer to home."
Community support
I continued to door knock, chatting to people about what happened, listening to their stories, and every so often correcting a false statement like not being able to insure your plants. Under some of the brokered policy wordings, for example, there's an additional benefit of $5,000 to help pay for trees, plants, shrubs and lawns.
I took a break in search of sunscreen, and found the Salvation Army set up at the Springwood Baptist church. This was the perfect opportunity to speak to people dealing directly with the affected. The net result was that Get Informed would become a referral partner for victims who required help with their insurance claims. Until that point they had no information, no resources and no referral partners to help people with their claims. I could hardly believe it myself, but they snapped up my information flyers, grateful they could now provide a solution for people with questions.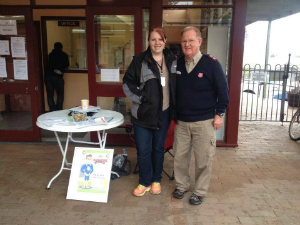 The following day I had an interview with Radio Blue Mountains which lasted for more than 30 minutes – because the host was so fascinated by what I had to say. Yes, someone was genuinely interested in insurance, because a major event had just occurred on her doorstep.
"You're just one person Kate, what difference can you make?"
Not only did I speak with affected residents, but more importantly, the people who held their trust. Local chaplains, pastors and ministers are called upon in situations like this, and they also gratefully accepted material which could provide a practical solution for people looking to them for assistance.
Putting aside preconceptions
Thanks to the generosity of 17 individuals and business owners, Get Informed was able to raise $3,020 to assist in this campaign. Over the five days we spoke with more than 50 residents, and to date have connected 10 bushfire victims for ongoing assistance; people who didn't have insurance who requested a contact for when they recover, people who did have insurance who needed a helping hand, people who were happy with their claim but wanted a better product for next time.
If I learnt one thing from my time in NSW it's that we need to put aside our ideas of what people need, and listen to what they want. Then act accordingly.
The very last person we assisted was a lady who had a near-miss in the 2001 fires, decided to switch to a more comprehensive product and as a result was fully insured for her total loss. However, she was still having problems with her insurer, which required the assistance of a professional. Right now there are thousands of residents taking a good hard look at their insurance, ready to have that conversation while it's front of mind. And so this is the time for us all to step up and tell people that we can help so that the next time an event like this occurs, there are a greater amount of people who have access to our products and most important - our professional services.
Kate would like to offer special thanks to NIBA, Affinity Insurance Services and Landcover for their generous support via Start Some Good, and most importantly the local insurance brokers who have donated their time to assist bushfire victims referred by Get Informed: Julie Lonard at 1st Choice Insurance Services, Len Parsons at Affinity Insurance Services and Ian Hewitt at Ian Hewitt and Associates.