"Right from the start I found the industry fascinating" | Insurance Business Australia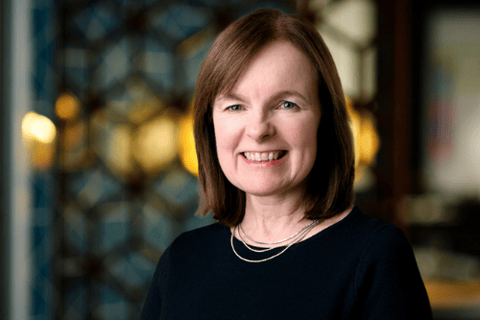 To say that Sue Houghton (pictured) is passionate about insurance is perhaps putting it lightly, and here QBE Insurance Group's new Australia Pacific chief executive shares why she considers it "incredibly rewarding" to be part of the industry.
"I started my career with KPMG initially in the field of accounting but working with insurance and reinsurance companies in the London and Australian markets," noted Houghton, whose employer is sponsoring the brokerage of the year (20+ staff) and the broker of the year – authorised representative prizes at the upcoming Insurance Business Australia Awards.
"I then moved into insurance taking on a variety of leadership roles in IAG, Wesfarmers, Gallagher, and most recently Westpac, working in both finance and operations positions. Right from the start I found the industry fascinating, because of the way it touches so many areas of people's lives and provides a genuine opportunity to make a difference."
Houghton, who became president of the Insurance Council of Australia (ICA) last year, was managing director for insurance at Westpac prior to her move to QBE in August.
The Sydney-based CEO's credentials include time spent as chief financial officer and chief operating officer for IMA (Insurance Mainsunufacturers of Australia), claims head at IAG, as well as chief financial and operating officer at Gallagher for Australia and New Zealand.
The key hire – who was described as an "accomplished and highly regarded" senior executive when her appointment was announced in February – told Insurance Business: "I'm looking forward to many things, initially getting to know my team, our people, and partners and understanding the business.
"I was attracted to QBE by the people I met and their values and ambitions for the company. It's an exciting time to join as we welcome Andrew Horton as our new global CEO, and I look forward to taking the time to understand and input into the new strategy and be part of leading QBE to its next chapter of growth."
Read more: QBE announces new CEO
Houghton came onboard QBE just a month before Horton's arrival as the new group chief executive of the Australia-headquartered international insurer. As part of QBE's group executive committee, Houghton reports to the former Beazley Plc boss.
Meanwhile, aside from her remit as chief of the Australia Pacific division at QBE, Houghton is also busy advocating for the industry in her capacity as ICA president.
Earlier this month, during the peak body's Annual Industry Forum, Houghton told attendees: "It's been a very busy year, dealing with new and emerging challenges under often difficult circumstances. We have had to be particularly agile and adapt to meet the needs of disaster-impacted customers in a COVID-19 pandemic environment.
"We've managed a very significant legal process to determine the applicability of business interruption cover to the COVD-19 pandemic. We have been working to influence and affect changes to support community resilience and adaption to climate change."
In the president's address, Houghton touched on issues spanning climate change, catastrophe policy environment, COVID-19 and border restrictions, reinsurance pool, the business interruption test case, commercial lines work, regulatory reforms, and Code of Practice updates.
"We continue to press policymakers on a cross-border movement agreement for insurance disaster specialists so we can respond quickly and effortlessly during the next catastrophe season," she said. "We have prioritised our engagement with small business stakeholders on identifying solutions for key cohorts where availability and affordability is a concern.
"We have engaged closely with regulators on the implementation of the most significant of the Hayne reforms. We introduced a new Code of Practice. We're looking at how we best confront emerging areas of focus such as cyber, and ESG (environmental, social, and governance) expectations."
Read more: ICA in board shake-up
Houghton also stressed that while the times might be uncertain, the same can't be said about the ICA's approach in responding to industry issues and difficulties.
Over at QBE, the insurance leader has her set of priorities as well.
"My immediate priority is to spend some time actively listening to our customers, brokers, partners, and people to really learn the ins and outs of the business and understand where opportunities may lie," stated the Australia Pacific CEO in her interview with Insurance Business.
"Additionally, I want to ensure that we continue the momentum from the first six months of the year and deliver a strong overall performance. I feel privileged to have joined QBE in this leadership position, and I'm delighted to be able to lead our AUSPAC division into the next phase of growth."
She also pointed to the many challenges, both local and global, including evolving customer and community expectations.
"It's certainly an interesting time to be part of the industry," asserted Houghton, "looking at the current and emerging risks these events create from a product and people perspective, along with what we are going to do in those spaces. With challenge comes opportunity, and I feel we are in a unique position to be able to work with our stakeholders to find solutions to these new and emerging risks."
This year's Insurance Business Australia Awards will take place virtually on November 12. The event will feature the exclusive stream of the awards presentation, as well as online networking opportunities such as peer matching and a live chat. You can register here.