Shen Neng owners to pay $39.3m over reef spill | Insurance Business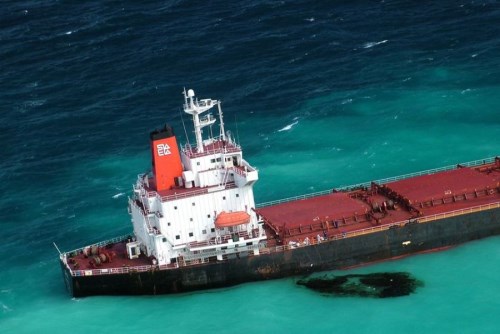 The owners of Chinese coal carrier Shen Neng 1, which ran aground and damaged the Great Barrier Reef in 2010, will pay almost $40 million in an out-of-court settlement to the Australian Government, it has been reported.
According to
AAP
, Shenzhen Energy Transport Co. Ltd and its insurer London P&I Club have refused for nearly six years to recompense for the 2010 accident, when a 225-metre long, fully-laden Shen Neng 1 ran aground 100km east of Rockhampton at Douglas Shoal.
Josh Frydenberg, environment minister, said the settlement has reached $39 million, less than a third of the amount the Government previously pursued.
"Our ongoing actions to pursue funds to clean up the pollution sends an unambiguous signal that damage to the Great Barrier Reef world heritage area is unacceptable," Frydenberg told
AAP
.
The terms of the settlement provided that $35 million will be paid to the government for the cost of cleaning up the polluted rubble and $4.4 million will be handed to the Great Barrier Reef Marine Park Authority (GBRMPA).
Conservationists slammed the settlement as late and inadequate, with Dr Russell Reichelt, GBRMPA chairman, describing it as "clearly unsatisfactory". Shani Tager, Greenpeace Australia spokeswoman, also said the amount was "woefully inadequate," noting that the government initially pursued $120 million.
Reichelt said scientists had already surveyed the site and tested cleanup methods. "Using this scientific and engineering work, the agency will use the funds from the settlement to initiate field operations to remove paint and rubble, enabling restoration of the natural ecological processes on this reef."
The ship's operator attempted to avoid a payout by arguing that the reef could self-heal. Experts estimated, however, that the reef could take 20 years to recover from the incident,
AAP
reported.
Shannon Hurley, Australian Marince Conservation Society spokeswoman, said: "Clearly Australia can't afford the damage that one ship, the Shen Neng 1, caused to the reef."
London P&I Club expressed regret over the incident and said it always wanted to reach a "fair and justifiable settlement". The maritime insurer earlier dismissed estimates that put the cost of damages to as high as $194 million, calling it "unsubstantiated and unrealistic".
In a statement, a London P&I Club spokesman said: "The parties agree that the money to be paid is sufficient and appropriate under Australian and international maritime insurance agreements to cover required environmental remediation."
The cleanup operation is estimated to begin in mid-2017, but given the depth of the Douglas Shoal, work can only take place safely at certain times of the year,
AAP
reported.
Related story:
Insurer battles government over $120m cleanup bill
Photo: Queensland Government