Steadfast announces major award winner | Insurance Business Australia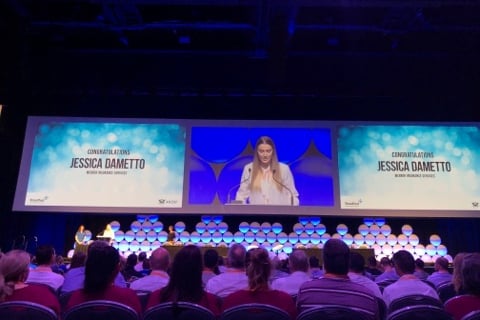 The final day of Steadfast's annual convention began on a high yesterday morning, after the network named its Outstanding Broker of the Year for 2019.
Presented in association with ANZIIF, the award recognises a broker who has pushed for constant professional improvement while also delivering exemplary service to clients.
This year, the prestigious award was claimed by Adelaide-based Jessica Dametto (pictured), an account broker with Webber Insurance Services.
"[Dametto] displays an ethical, professional and committed attitude to assist her clients with their insurance needs," said Steadfast broker services manager, Catherine Pettitt.
Pettitt also pointed out that the win is particularly impressive as Dametto entered the insurance industry just three years ago, in an administrative role.
"Her potential was quickly recognised by the brokerage's director and she was promoted to a broking assistant role," said Pettit. "She is now a fully-fledged broker with her own book of clients and has obtained the full diploma of insurance broking."
In fact, Dametto achieved the highest average score in the Steadfast group for completing multiple skills units within the ANZIIF Diploma of Insurance Broking.
"I feel extremely honoured to be up here receiving this award today and I'm sincerely grateful for the recognition of my work – even though I am sure there are many other deserving candidates who finished their studies with outstanding results," said Dametto.
Dametto also praised ANZIIF and Steadfast for the support both organisations provide individuals and businesses within the insurance space.
"I am grateful that we have a trusted organisation like ANZIIF to provide such a broad variety of programs," she said. "I would also like to extend my thanks to Steadfast for all that they do for our industry – I'm confident that the tools, training and support provided by Steadfast have largely contributed to me being a recipient of this award today."
Finally, Dametto thanked her employer, Webber Insurance Services, for identifying her potential so early in her career and then supporting her to grow professionally.
"Being a newcomer to the industry just three years ago, Chris, Ahsha, and Daniel have all continued to mentor me and provide constant support for every decision I make," she said. "I am extremely grateful for the many opportunities that they provide for me to develop further."