'Super tall' buildings pose new challenges for insurers | Insurance Business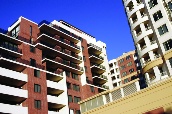 The latest spate of 'super tall' buildings reaching dizzying heights of more than 600 metres is bringing new challenges for insurers and brokers as the new projects are built with increasing complexity and value.
Dubai's 828 metre-high Burj Khalifa towers more than 300 metres over the previous highest building, Taiwan's Taipei 101, which is 509 metres.
Allianz
Global Corporate & Specialty (AGCS) says that as soon as 2019, these will be dwarfed by Kingdom Tower, which will be the first one kilometre tall building. By 2020, the average total height of the tallest 20 buildings in the world is expected to be close to 600 metres, comparable to almost two Eiffel Towers.
AGCS Asia Pacific regional manager of engineering Ronan
Gallagher
, said insurance plays a vital role in evaluating and managing the complex risks of such projects. He said the value of super tall buildings will easily exceed $1bn and so insurance will need to be provided by a consortium of insurers and reinsurers who can collectively cover any loss.
Glenn Ross
, CEO of construction insurance specialist
MECON
Insurance Group,
told Insurance Business
there is a vital role for brokers to play. He said as it is unlikely that a single risk of such magnitude would be placed with one insurer, brokers would be required to arrange coinsurance with a number of insurers in order to adequately insure the whole risk.
He added: "The broker would need to be across such things as the allowance for demolition, which would be far from a standard allowance – even for a relatively minor occurrence of damage occurring at such an extreme height."