Valerie Baker winners return from London | Insurance Business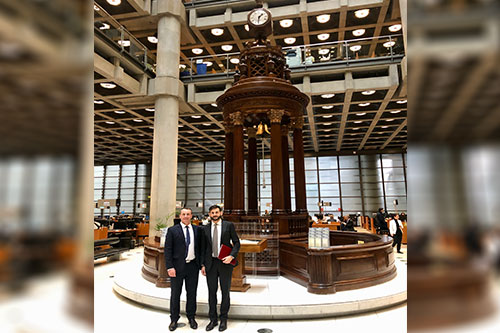 The winners of last year's Valerie Baker Memorial Award have weighed in on their once-in-a-lifetime experience, describing the trip to Lloyd's as an eye-opening career booster.
The annual award recognises excellence in the general insurance intermediary sector and gives the winner an expenses-paid trip to Lloyd's of London, where they have the opportunity to meet with senior managers and enjoy a tailored education experience.
In 2018, James Dunk – operations manager at Dunk Insurance – was named the 5th winner, with the judging panel commenting on Dunk's commitment to his local community around Young, NSW.
"He frequently goes above and beyond to help his community including borrowing a motorbike to move cattle from a toxic spillage, spending all night sweeping water from shops after a storm and using a front loader to remove fallen water tanks from rooftops," the panel said of Dunk.
"After one particular storm, he was to be found walking the streets of a remote township lodging claims for residents regardless of their insurer or intermediary."
Dunk has now returned from the trip to London, and while he says it's given him an entirely new way of looking at things, he says he's still holding firm to his regional roots.
"The trip has changed my perspectives in a way I didn't think possible," said Dunk, who joined his family's insurance brokerage back in 2001. "I went as a regional farm broker and have returned as a regional farm broker – but one who is now focused on making a difference and using the opportunities and networks created by the experience for my clients and the community."
Interestingly, while the Valerie Baker Memorial Award typically offers the experience to one winner, 2018 actually saw two people recognised for their contributions.
Rocco Pirrello, operations and brand manager for GSA Insurance Brokers, did not win the award but his impressive entry led the panel to do a deal with his employer – he would be invited to participate in the Lloyd's of London experience, on the condition GSA would pay for his airfares.
Generously, GSA agreed, and Pirrello recently returned from the once-in-a-lifetime trip.
"I would say, put your best foot forward to give yourself the best chance and experience what I was lucky to – it's a truly unique and eye-opening experience.," he said.
Pirello also reassured other insurance professionals that the application process is not as daunting as they may fear – in fact, it's beneficial in itself.
"Often people think applying will take a lot of time, but the process is not as arduous as you might first think," he said. "In fact, it was an enjoyable exercise that allowed me to reach out and speak to a number of people at GSA and in my greater network."
While the 2019 award winner was only announced in September – going to Origin Insurance director Beau Munn – the dates have already been released for next year's competition.
Entries for the 2020 edition of the award – which is supported by industry heavyweights Steadfast, AIMS, Lloyd's and Gold Seal – will open on May 01 and close on July 31. The winners will then be announced in August 2020.