Weekly wrap: Aussie broker crosses Blue seas for UK role | Insurance Business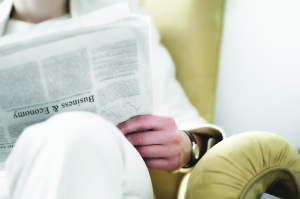 OAMPS man joins UK's Bluefin
Craig Sherwood, OAMPS district branch manager for North Sydney and Parramtta, has left the company and the country to join a brokerage in the UK.
He has been appointed Bluefin branch director of its Milton Keynes office with immediate effect. He will be responsible for overseeing the management and development of the Milton Keynes office.
Prior to OAMPS, Sherwood was based at Towergate Risk Solutions in the UK.
OAMPS has filled Sherwood's role on an interim basis and is recruiting a permanent replacement.
AIG's Benmosche resigns; insurer announces new CEO
AIG Group CEO Robert Benmosche will resign from his role on 1 September to spend more time with his family in Croatia. He will be replaced by current executive vice president Peter Hancock.
Benmosche, who took up the CEO role in 2009, was originally thought to be resigning in early 2015. During his time as AIG head, Benmosche paid back the US Treasury for its bailout and made several company cuts designed to streamline the business.
AIG chairman Robert Miller hailing both men for their contribution to the once-embattled company.
He said of Benmosche: "Under Bob's incomparable leadership and vision, AIG has achieved remarkable, and at times, unthinkable, milestones and successes."
Miller praised Hancock for revitalising AIG's property casualty business.
Willis CEO roughs it
Willis Australasia Deputy CEO Tony Barber will once again sleep rough in a bid to raise awareness and funds in support of essential homeless services across Australia as part of Vinnies CEO Sleepout.
Barber will take to the streets on Thursday 19th of June. Barber took part in the sleepout last year and witnessed first-hand insight into the plight of the 105,000 homeless people in Australia left a lasting impression on Tony.
"On a personal level, the most profound things I took away from the 2013 Vinnies CEO Sleepout were an increase in my own social conscience, and an understanding of the wonderful work that so many people do in trying to help the homeless. With great support from all those in the insurance industry, I was absolutely thrilled to raise more than $18,000 to support the cause last year, and I hope I can do the same again this year."
To make a donation click
here
.
Lloyd's gets ratings upgrade
Lloyd's of London's financial strengthen has been upgraded from 'A+' to 'A' by Fitch Ratings.
Fitch also upgraded the Society of Lloyd's Long-term Issuer Default Rating (IDR) to 'A+' from 'A' and Lloyd's Insurance Company (China) Ltd's IFS rating to 'AA-' from 'A+'. The agency has additionally upgraded Lloyd's subordinated debt issues to 'A-' from 'BBB+', as detailed at the end of this comment. The rating outlook is stable.
A Lloyd's spokesperson said: "Lloyd's welcomes Fitch's Ratings upgrade to AA- as an endorsement of our progress and performance over recent years, and a reinforcement of Lloyd's position as a leader in the world's specialist insurance sector.
"Despite challenging conditions faced by the sector as a whole, this upgrade is down to significant improvements in Lloyd's underwriting discipline, financial strength and risk management."
The upgrade reflects Fitch's expectation that Lloyds' future cross-cycle underwriting performance will be more favourable than that achieved by the Lloyd's Market historically, both in absolute terms and compared with peers. The upgrade is also supported by Lloyd's strong financial profile, including a level of Fitch risk-adjusted capitalisation that is in line with the new rating level, low financial leverage and a significant market position in both insurance and reinsurance classes.