Weekly Wrap: Leading player Austbrokers celebrates 30th anniversary | Insurance Business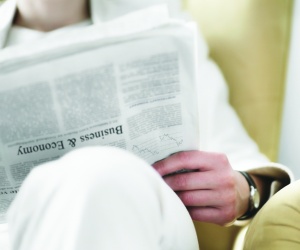 Leading player celebrates 30th anniversary
Austbrokers
has celebrated its 30
th
birthday with a lavish ceremony at Sydney's Ivy Ballroom this week.
The anniversary coincides with the 10 year celebration of the company becoming listed and more than 350 guests helped the company celebrate.
"We were pleased to be able to come together with so many of our Austbrokers family and our industry friends to mark this momentous occasion," CEO and managing director
Mark Searles
said.
"This achievement wouldn't be possible without the hard work and support of our partners and clients over the years."
Searles, who's contract with the broker network was extended earlier this week, thanked the partner businesses that are involved with Austbrokers and backed them to help continue growth at the company.
"Our partner businesses have skin in the game, everyone remains focussed and committed to growth. The result is clearly demonstrated by the sustained growth we've enjoyed year on year," searles said.
"With 30 years of experience in establishing mutually beneficial partnerships, the Austbrokers owner-driver model has, over time, clearly proved to be highly resilient – we have to thank the capability and professionalism of our partners, which has enabled us to grow and will continue to do so for the future."
On the night, Austbrokers partnered with the Children's Cancer Institute of Australia and were able to raise more than $12,000 for the organisation through a raffle and donations.
"We know that we wouldn't be the organisation we are today without the support of our communities right across Australia.
"Our staff and our partners are some of the most generous people I've ever met, giving their time and money to help those in need. Getting involved and giving back to communities is something Austbrokers intends to ramp up further as a Group," Searles continued.
Broker who swapped rugby reffing for risk management
The New Zealand insurance industry knows him as Steve Walsh, executive director, sales and marketing, at
Marsh
.
But on Monday night, anyone watching the sports segment of TV One News would have seen another title attributed to him – former international rugby referee no less.
Insurance Business
contacted Steve Walsh from Marsh who confirmed that it was indeed what he did in his previous life, having retired 15 years ago.
Confusingly, there are actually two retired international rugby referees called Steve Walsh from New Zealand.
"There was a four year period when we were both reffing and I was Steve Walsh senior and he was Steve Walsh junior," he said, adding with a laugh: "He was the pretend version!"
Walsh said he used to play rugby but after one too many injuries he decided to follow in his father's footsteps.
"He was a Welsh referee and refereed Wales v Romania that sort of thing. I always had a bit of an inkling in the back of my mind to do it and I was fortunate to have a supportive employer that allowed me to take the time off I needed."
As the game turned professional and Walsh turned 40 he made the decision to hang up his ref's whistle and concentrate on his insurance career.
Walsh said apart from watching the game he doesn't do anything on the rugby field anymore, and after a few years of coaching and mentoring other referees and coaching his daughter's soccer team he just gets called on from time to time to offer his wise words of rugby wisdom, as he was on Monday.
Walsh was interviewed by reporter Martin Tasker about the controversial decision by referee Craig Joubert in the Scotland v Australia game which saw Scotland knocked out of the Rugby World Cup in the closing minutes.
The issue was whether using a Television Match Official for scenarios other than suspected foul play or tries, in this instance being a knock on, should be considered for the future.
Walsh admitted had they used the TMO the decision would have likely gone the other way and Scotland would be in the semi-finals.
He said it was easy to criticise the referee's decision in the Scotland game.
But he said he was sympathetic to Joubert: "The eye level view is completely different from 45 degree camera angle."
Whichever way the decision had gone, one team would have been remonstrating, he said.
"Scotland are feeling pretty raw now but had he not applied it half of Australia would have been up in arms that he'd made the wrong decision. It's just part and fabric of the game."
Uptick in homeowners "telematics" raises serious privacy concerns
A decade ago, telematics devices revolutionised a significant portion of the car insurance industry. Today, the usage-based insurance model is coming to homeowners policies, and raising serious questions about privacy along the way.
In the past year, four leading US home insurance companies — American Family Insurance, Liberty Mutual, State Farm and USAA — have announced deals with companies that provide "smart" products for homes.
These devices monitor and control certain of the home's major appliances and in exchange for using them, policyholders receive a discount on their premium. The insurance companies then receive a large amount of data on how their customers live.
"These are double-edged products," Bob Hunter, insurance director for the Consumer Federation of America and a former Texas insurance commissioner, told the
Chicago Tribune
.
"If properly controlled for privacy and only installed with the policyholder's permission and total transparency, they can make a home safer and reduce the likelihood of death and destruction, but without strict protections, these could be a threat to a family's privacy and intimacy."
Such is the access these devices have that Canary, one of State Farm's partners, once recorded a baby's first steps. This is no small worry to consumer advocates concerned over privacy.
Already, roughly half of insurance policyholders view the use of telematics devices negatively, according to a 2014 survey from
Deloitte
. This is especially prevalent among older consumers – in other words, those most likely to own a home and benefit from the "smart device" discount.
Nevertheless, it is likely that demand for telematics and the discounts it provides will grow. Younger homeowners will begin to influence the market, and the use of surveillance technology by insurers may gradually become more accepted.
And insurers argue that their devices, in addition to giving a premium discount of about 5%, also help make homes safer.
"These technologies provide the opportunity for consumers to reduce the chance of harm to their family and home by detecting events that trigger alerts on their smartphones, wherever they may be," said Michael Robon, senior vice president and property product manager for Liberty Mutual Insurance. "We believe customers seeking to monitor their homes with devices like Next Protect demonstrate responsible behaviour. As a result, we will be offering these customers reduced pricing on their home insurance policy."
Not surprisingly, then, Deloitte concludes that "the genie is out of the bottle."
"The industry as a whole is not likely to go back to relying on its traditional methods of assessing auto risks," the analyst said in its report.