Weekly Wrap: Major insurance player reveals biggest business risks | Insurance Business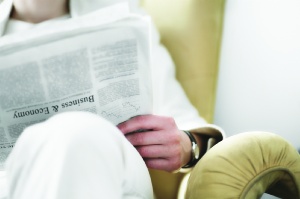 Major insurance player reveals biggest business risks
Swiss Re
has released its latest report on emerging risks that businesses will face in the future.
Four emerging risks top the charts and are expected to have the highest potential impact on global business; de-globalisation, super natural catastrophes, the 'great monetary experiment, and the challenges of the 'Internet of Things.'
"In an ever-changing risk landscape, the insurance industry is continuously confronted with new challenges," the report, entitled
SONAR: New Emerging Risk Insights
, begins.
"Key drivers of this changing risk landscape are new economic, technological, socio-political and environmental developments, as well as the growing interdependencies between them. These can change the dynamics of risks already known or even underwritten. This includes the perception of risks by consumers, regulators and policy holders as well as their legal treatment."
Patrick Raaflaub, Swiss Re's Group Chief Risk Officer, says that while the report may not be entirely accurate, planning and preparation for a diverse risk future is paramount.
"In a future in which change is the only constant, foresight information is crucial to prepare for tomorrow's challenges.
"This report seeks to provide an early indication of what might lurk beyond the horizon. While many of the topics presented might never materialise into significant risks, some definitely will. The earlier we start adapting to these changes, the better prepared we will be."
The four high risks are joined by 11 medium risks and six low risks in the report.
Medium risks include wildfires, rising pandemic risk and genetic engineering while low risks include chemicals in the environment, scarcity of raw materials and fossil fuel mismanagement.
Airbag manufacturer in massive global recall
Takata Corporation, the Tokyo, Japan-based air bag manufacturer has announced that it is recalling 34 million air bags worldwide, a move representing the largest automobile recall in North American history, reports
The Globe and Mail
.
These defective air bags have led to six deaths internationally, and will impact cars from eleven manufacturers, including Honda Motor Co. Ltd., Nissan Motor Co. Ltd. and Toyota Motor Corp. All fatalities thus far have occurred in Honda vehicles.
According to US government regulators, the air bags are deploying too forcefully, sending sharp debris and shrapnel throughout the vehicle. It is also accused of evading further investigation into the faulty auto parts.
"Takata should have been much more aggressive before now in protecting passengers through a national recall," said US Senator Richard Blumenthal. "In the meantime the Department of Justice should be taking appropriate action to investigate and impose penalties."
Starting in February, the National Highway Traffic Safety Administration (NHTSA) has fined Takata US$14,000 a day for failing to cooperate in its airbag safety probe.
Takata faces a maximum of US$70 million in penalties from the agency.
The recall, however, is estimated to cost Takata somewhere between US$4 billion to US$5 billion, not including the host of class action lawsuits that are expected to arise in U.S. and Canadian courts, as well as the fees that will be incurred by further regulatory and criminal investigations into the matter.
New NZ insurance recruiter already set to expand
Business is booming for specialist insurance recruiter Stirling Andersen just three months after setting up their first New Zealand office in Auckland.
The agency, which is part of insurance, accounting and resources recruiter The Andersen Partnership, focuses on insurance and wealth management and is already looking to boost its team over the next 12 months.
Stirling Andersen MD Nick Cowdery said globally the company was expanding rapidly with three more offices due to open in Dublin, Beijing and Kuala Lumpur in mid-2015.
This was in addition to four Australian offices, plus Singapore, Hong Kong, Shanghai and London since the company was established in 2009.
The quick growth was being reflected in New Zealand too with a second office pegged for Wellington by the end of the year.
Auckland manager Paul Wheeler said: "We've had a brilliant response from the industry so far, they are loving the fact that we are taking insurance recruitment to the next level.
"So many recruiters in New Zealand see it as a bit of an afterthought, something to dip their toe into from time to time."
Wheeler said the company provided permanent, contract and interim solutions with a focus on mid to senior management levels with its goal being to offer a global service but with a boutique approach.
"Our global network of offices is also opening up opportunities for insurance professionals to find work in other parts of the world along with us having access to a steady stream of returning Kiwis," he said.
Stirling Andersen's recruiters solely recruit in the following areas:
General Insurance
Workers Compensation
Actuarial
Wealth Management
Reinsurance
Rehabilitation
Superannuation
Broking
Life Insurance
Mortgage Broking
Wheeler added: "It's exciting times in the Auckland office and with plans to open in Wellington towards the end of the year we aim to be the first name on people's lips when they are considering their next career move."