Weekly Wrap: Participant numbers grow in Government insurance scheme | Insurance Business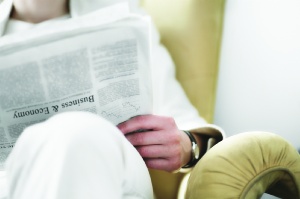 Participant numbers grow in Government insurance scheme
The National Disability Insurance Scheme is now helping more than 13, 000 Australians living with disabilities, new data has revealed.
Mitch Fairfield, assistant minister for social services, confirmed that over 13, 500 people now had support plans set in place with some $754 million committed to allow those with disabilities to live more independently.
The NDIS is currently operating in seven trial sites across the country with an Australia-wide transition starting from July 2016.
"The NDIS is making a difference in the lives of more than 13,500 Australians with disability and their families, who are now at the centre and in control of the services that they receive," Minister Fairfield said.
"They are getting the support they need to pursue their own personal goals and to improve their economic and social participation."
The latest report represents 85% of bilateral targets laid out by the NDIS, which is up 81% from the previous quarterly report.
The average cost of each care package stands at $34, 000 and participant satisfaction levels remain "very high" a statement from Minister Fairfield said.
"The Government is committed to the full rollout of the NDIS and is determined to make the savings to absorb this once in a generation reform into the budget," Minister Fairfield continued.
"I look forward to working with my state and territory counterparts as we lay down the framework through which the NDIS will be rolled out to people with disability."
Insurance tech firm announces solid results
Insurance software provider Target Group has announced a bumper set of results for the 2014 financial year.
Target announced that it has more than doubled its profits for the year to $10.9 million with a 33% increase in turnover over the same period.
"Our results are a reflection of Target's commitment to delivering excellent service on behalf of our clients in every interaction," Target Group CEO Paddy Byrne said.
"We have had a very successful year which included migrating several portfolios across a range of asset classes in seamless well managed processes and collecting cash in excess of clients' expectations, all in a compliant and customer centric manner.
"These results demonstrate our market leading capabilities and the fact that our clients can rely on exceptional regulatory and economic performance in the portfolios we administer."
Byrne noted that the company will look to increase its involvement in the insurance space using its IF Channel over the coming year.
"In the insurance market, we continue to roll out our innovative Insurance software, 'IF Channel', to support clients with their multi-channel digital distribution strategies," Byrne said.
Currency converted from GBP using
www.xe.com
on 04/06/15.
Major US insurer exploring merger options
One of the leading health insurance carriers in the United States is considering a possible sale of the company in an industry already saturated with merger and acquisition activity.
Humana Inc. told reporters this week it is exploring the possibility of selling to either of its rivals, Aetna Inc. and Cigna Corp., as well as other possible buyers. The insurer is working with advisers at Goldman Sachs Group to complete the sale, though there is a possibility no deal will be made.
Humana, which is based in Louisville, Kentucky, collects most of its revenue from administering private Medicare insurance, Medicare Advantage. That gives the company power as a seller, when viewed in light of the country's rapidly aging population. As of last Friday, it had a market value of nearly US$7 billion.
The news comes as the US health insurance industry continues to shrink, citing pressures stemming from the Affordable Care Act. With pressure to lower costs, mergers have long been expected by analysts – particularly among companies with significant business ties to government programs like Medicare Advantage.
"We view this step as a trigger event in a managed-care industry overdue for consolidation," Leerink Partners analysts wrote in a research note Friday. "We expect the next year will see multiple strategic actions among the major players."
They expect the deal to lead to more mergers in the health insurance space, which has been relatively quiet since a rash of deals in 2011 and 2012, which included Aetna's US$5.7 billion takeover of Coventry Health Care Inc.
Humana currently has a membership of 14.2 million customers. Its revenue jumped 18% in the last quarter, off US$48.5 billion in revenue last year. The company has, however, missed analyst projections for the past three quarters.
Executives say they have faced challenges due to the ACA exchanges s well as an uptick in hospital usage by Medicare members.