Weekly Wrap: Surfer insurance against shark attacks an industry first | Insurance Business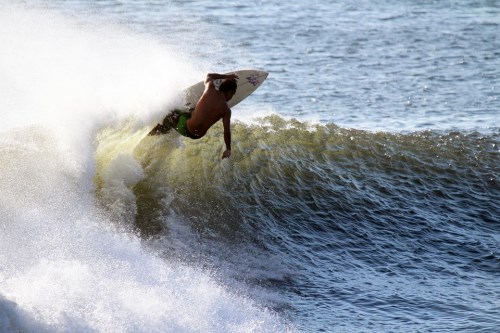 Surfer insurance against shark attacks an industry first
In a policy believed to be the first of its kind, surfers can now insure themselves against shark attacks.
A Newport surfing club and a Mona Vale insurance company have joined forces to offer a scheme in which surfers (or their next of kin) could claim up to $50,000 lump sum pay-out in the event of a shark-related injury or death.
Newport surfing club 1 Love Surfing founder Benny Bradley said the scheme – run via Carriers Insurance Brokers – will help give surfers more "peace of mind" while they're in the water.
The policy, believed to be an industry first in Australia, covers a range of circumstances which lead to death or injury for surfers and costs $130 per annum for members.
Bradley said surfer' worrying about their increasing risk of shark attacks was one of the main drivers behind the initiative.
"I think everybody who surfs is always kind of thinking about sharks. It's just having that peace of mind… it makes a big difference," he said.
Insurance gets its own top level domain
Forget the common moniker .ca or .com – insurance businesses to benefit from targeted online branding as .insurance top level domains become available.
If .insurance was available as part of your domain name, would you want it?
As of May, .insurance will be available to qualified businesses as a top level domain (TLD). To learn more about how to qualify and how to register a domain name, visit
fTLD.com
to learn about this new program.
Only businesses that can prove they are in the insurance business will be able to obtain these names, and they also have to be able to prove that the domain will lead to a site maintained by the insurance business.
Laird Rixford, president of Insurance Technologies Corporation (ITC) said these domains can be a good marketing tool, but only if they are used appropriately.
"The .INSURANCE top level domain is good for companies that have a brand. Something like AMAX.insurance, Freeway.insurance, or Progressive.insurance. Otherwise, you risk complicating the situation as people will still probably want to add the .com.
"Time will tell if they help with search engine rankings. Though we caution against pairing them with exact match domains as that can be considered spammy and lead to a drop in the rankings," he said.
The
Insurance Council of Australia
has endorsed the fTLD Registry Services to manage the generic top-level domain name .insurance.
ICA general manager of communications and media relations,
Campbell Fuller
, said "The ICA has confidence that fTLD has the appropriate safeguards in place to manage the .insurance top level domain for the benefit of the insurance industry across a range of jurisdictions."
"Any decisions by insurers to incorporate .insurance in their domain names is a commercial matter for the companies involved."
From May 5 to May 8, founding members of fTLD will be able to apply for domain names on a first come, first served basis. Such names need to have already been registered with the Trademark Clearinghouse (TMCH). Any domains registered during this period must be activated by June 17.
From May 9 to June 8, any other insurance businesses which have registered trademarks with TMCH can request domain names, again on a first come, first served basis.
From June 9 to June 14, founding members alone will be able to register names. General availability of names will open on June 15.
Northern Territory signs up to National Disability Insurance Scheme
The Northern Territory has signed up to the National Disability Scheme in a last minute move after two crucial issues preventing the agreement were overcome.
The Northern Territory has signed up to the National Disability Insurance Scheme in a last minute move after two crucial issues preventing the agreement were ironed out.
On the eve of Tuesday night's Federal Budget, the Territory pledged $99 million a year and the Commonwealth $105 million a year to the scheme once it was up and running.
The National Disability Insurance Scheme provides funding for people with a permanent and significant disability that affects their ability to take part in everyday activities by allowing them to go to the market and choose their own services. Approximately 4900 people are in line to benefit as opposed to around 3500 before the deal was inked.
Health minister John Elferink called the signing 'a significant milestone' and a complete reversal from this time last year when the early draft of NDIS was pegged as a dud deal.
An initial trial in the Barkley area, which commenced on July 1, covered only about half of the disabled population.
Elferink said the trial revealed "not all but most" Territorians with disabilities would be able to access the scheme.
The government's other main concern was the possibility of disabled people who were living in more remote areas being taken advantage of by rogue operators.
Elferink said talks with Federal Social Services Minister Christian Porter satisfied him that there would be extra payments would be put in place to help an oversight function.
From January 1 next year, the East Arnhem region will be phased into the NDIS scheme. Darwin and Katherine will follow from July 1 next year, followed by Central Australia and urban Darwin.