Work-related stress on the rise | Insurance Business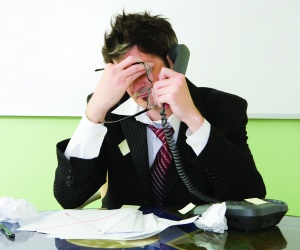 Work-related stress is on the rise, with more than one third (38%) of Australians saying their stress levels have been higher in the past year.
A global study of more than 16,000 professionals by workspace provider Regus looked at stress levels in people's lives, the main reasons for stress and possible solutions.
The top causes of stress for Australian's are either finance or workplace related, with 49% citing personal finances and 48% saying their job is the top source.
Other workplace related factors include stress because of customers (31%), and one quarter say their colleagues are the reason (25%). Factors related to home life rate much lower, with only 17% of respondents saying their partner/spouse creates stress for them, and only 14% saying their children are a cause.
Jacqueline Lehmann, country head Australia for Regus says workplace stress is costing the Australian economy $730m a year.
" The heavy tolls of stress falls not only on workers and their families, but also on businesses as they find that their staff underperform, need more sick-leave and are less efficient. Businesses that want to help their staff lead more rewarding lives cannot fail to analyse and tackle levels of stress within their organisation."
Commonly cited causes of work-related stress include long hours, heavy workloads, job insecurity and interpersonal conflicts.
"When it comes to the solution a lot of it comes down to managers who need to create stress-free environments and enable their teams to be productive. This means making sure employees are in control of their workloads and fostering healthy team relationships and reducing wasted time such as long commutes."
When asked about how stress could be reduced, two-thirds (66%) of Australian respondents identified that one way to reduce stress is by giving employees more choice and power in how and where they work. People also believe this is a key method for businesses to save on costs (34%) and to help to improve productivity (74%), thereby enhancing job security
"Giving employees tools that allow them to work from home more or from locations outside the office, or enabling more suitable hours, can be an effective way to reduce stress. It can also help people be more efficient, and a productive person feels more happy and secure in their job…The benefits are clear for the employee as well as the business."

---