"You've got to save people from themselves" | Insurance Business Australia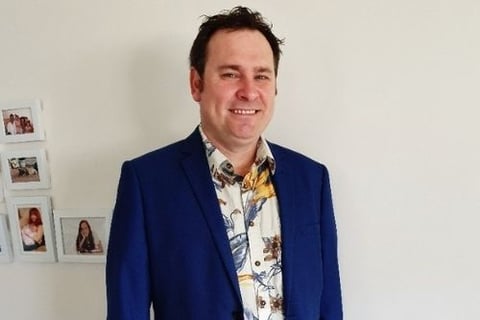 New South Wales State Emergency Service (SES) volunteer Richard Dunn (pictured) has a certain fascination with floods, and it looks like he's combined the best of both worlds by enjoying his time spent volunteering while also leveraging the industry stalwart's expertise as a general insurance broker as he tries to educate the public about flood risk.
Dunn, who has been with SES for nearly four years now, is currently part of the Penrith and Mount Druitt units with a focus on flood intelligence. His insurance experience, meanwhile, spans 17 years.
"I use my skillset, because I've been a broker for so long and I look at flood maps anyway," said the Driessen Insurance Brokers senior account executive. "I sort of look at risk in a different way, so I did a flood intelligence project.
"By using flood card templates developed by NSW SES, I go out to the site, have a look at it and note, 'This is what it looks like when it's not in flood; this is what it looks like when it's in flood; this is the history of flood'. And this assists flood rescue volunteers to better understand the risk."
According to Dunn, it helps volunteers know where the hotspots are while at the same time preparing the community. Usual hotspots are bridges and rivers, but the broker added that the recent flooding saw new ones emerge because of the event's scale.
While Dunn has a deep appreciation for his SES stint, the volunteer lamented the longstanding nature of the flood problem.
He told Insurance Business: "What tends to happen at the moment is we've got all these flood zones and they're unaffordable to insure for flood. They're a bit similar to fires, but floods are even worse now. The massive Hawkesbury-Nepean floodplain, for instance, it's got heaps of houses on it and they keep on building. And they probably shouldn't do that.
"It's getting to the stage now where there are certain places where houses are uninsurable and you need to self-insure for flood because there's no profitability in insuring them. So, I not only get out there and see when it floods, and understand why it floods and where it's going to flood, but I also see the economic part."
In Dunn's view, simply put, people shouldn't live in these places anymore.
"They shouldn't repair; they should move away," asserted the flood risk expert.
"It's not somewhere where they can live, because it's just too dangerous. It's just been happening forever. I've got a flood map from 1867, so that's when they knew about it. There's going to be people who have lost everything – their house, their contents, maybe their livelihood – and they won't have any insurance at all and the government is going to have to bail them out."
Self-insuring the uninsurable
Explaining how one 'self-insures', Dunn said a high-risk property should be treated as if it were a hotspot itself.
"What you do is you'd go, 'Well, if I'm going to live in that location, I have to imagine my house is a bridge'," he illustrated. "So, the house has to be built up very high on very solid foundations, and then when the water rises it just goes through the bottom and it doesn't destroy anything. There's no wood, no perishables, no content.
"I used to clean carpets many years ago, and we had a client who had a pulley system because his house was really close to the river. When the floods come every 20 years, his table, piano, and everything, he'd drag it all up into the roof and then leave."
Dunn also cited a caravan park as an example. "There's this caravan park that flooded but all the caravans were on wheels," he noted. "They moved 141 caravans to higher ground. But you have to plan and you have to have evacuation in your mind, and then move."
Meanwhile, the SES volunteer acknowledged that some people could have bought a property not knowing that it was in a flood zone. However, Dunn highlighted that in the places where "there's so much information around," the broker finds it hard to believe that residents didn't know they were in a big flood zone.
Dunn also thinks that those who insist on building houses where they clearly shouldn't must be found more responsible. "If you want to build there, you've got to mitigate; otherwise, you can't live there," he said. "Living on the river, for instance, you just look at it and it doesn't take rocket science."
From an insurance perspective, Dunn stressed that the risk has to be something that's not known or expected. The broker went on to say that market forces in insurance will continue to make flood coverage unaffordable. And as more flood modelling is conducted and recent data is collated, he believes the issue will become much worse.
Referring to the less-educated and less-fortunate, Dunn added: "They can least afford to lose everything, so really you should save them from themselves and say, 'If you're going to live in a caravan on the river, it's got to be on wheels'."
As for the role of the SES – which Dunn first came to know about when a tree fell on their house when he was a kid – the volunteer expressed how thankful he is.
"We're very lucky in Australia, because we've got really good emergency services," declared Dunn. "That's why so many lives get saved."