"Thank goodness someone cares": Broker on staying connected | Insurance Business Australia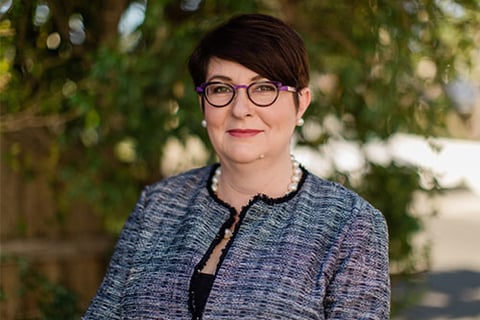 The pandemic has brought significant challenges to the insurance and broking industry – but one universal priority has been maintaining relationships.
Mandy Cooper (pictured), who first entered the insurance industry in 1987 and is now the director of Cooper Professional Risks Ptd Lty., says her main priority throughout the social distancing and lockdown restrictions has been to remain supportive of her clients.
"What I'm finding is that with clients, they're all different but you check in on the ones you know are going to feel distressed. By ringing them you can almost hear them say 'thank goodness someone actually cares to call and see how I am'. It changes. It changes their attitude," Cooper said.
"It definitely changes the way they deal with things. But the anxiety during lockdown I feel like the entire country, we've all gone mad, and everyone's got cabin fever…. So, it's working through that."
Cooper told Insurance Business Australia that she understands the anxiety amid the pandemic on a deeply personal level, after revealing her own two kids have suffered.
"You know, we've got two children – one adult, one in high school – both with anxiety issues and that's imploded it. Everyone's anxiety levels are so high," she said.
But regardless of these social and emotional challenges, her business, which she runs alongside her husband Robert "Rob" Cooper, is founded on a balanced split between "business" and "touchy-feely" relations.
"The way our business is run is my husband Rob works, he's the technical guy. So, he does a lot of the emails to clients and he's very good at putting the words together, he's very clear for cover with clients. Whereas I'm the touchy-feely part of the business," she continued.
"I'm the one who picks up on the phone call and has that part of it with the client. Rob has relationships too with his clients, as you can imagine, but I'm always asking the questions like 'how are the kids?' Remembering about their family, their life and what they do."
Cooper, despite how highly she prioritises close communication with her clients who she considers her friends, has noticed a decline in clients reaching out due to the anxiety surrounding "the unknown."
"Something I've noticed that's changed dramatically as a result of the pandemic is that we're not having those conversations, even with our insurers," Cooper admitted.
"It's all very email-based and technical and whenever you speak to someone, it takes a lot to get them to open up and relax. Everyone's very tense, everyone's very stressed…You just feel that really anxious energy in the email, in the correspondence, in the discussion. No-one knows what's going to happen next and so, the fear of the unknown is really strong."
However, she still goes above and beyond to support her clients. By putting in the extra effort when trying to get quotes, she says she's found a competitive advantage.
"I was trying to get a quote for a client and I sent it out… Normally, I'd send it out through emails and then if it's one of the underwriters that I think is in their core business, I'll say 'I just want to have a quick chat to you about this one', stuff you don't normally put in the email but you want the underwriter to know what it's about – this is why it's short notice, this is the relationship I've got with the client, here we go.
"… I was doing that, and the underwriter said to me 'you know what? I've got 45 quotes in my inbox and yours has just gone to number two.' He didn't know the backstory and it was sitting at number 40. You tell them the backstory and you get that," she said.
Aside from maintaining social connections, Cooper says she sees the pandemic exposing flaws in remote working.
"Oh look, the flaws I have seen in some ways are with the ones who aren't coping with the technology and with working remotely and not trialling it before. We've seen this with competitors and insurers who can't cope with it. Others feel like they're working better," Cooper continued.
But, while some workers may thrive off working from home, many aren't used to working alone.
"The lack of communication – the lack of office environment – I think some people work OK without being in the office," she said. "But the lack of social contact in the office, some people can cope without it, some people strive on having it and some don't. And you certainly get to know who those people are."
The industry is now set to be hit with more losses, with Cooper saying she expects the hospitality sector to be hit the hardest.
"Seeing hospitality stay afloat [will be a challenge] – it will change," she said. "The way we interact with people will change for a while, who knows how long. It will impact the way we transact business, the retail, the markets, the festivals – those sorts of things.
"They'll all change, and which ones will survive and which ones won't [remains to be seen]. But there will be a really sad outcome because there's been some really great operations out there and they will change."
Cooper's biggest career objective coming out of this pandemic is ensuring she also brings her clients out the other side with her – both financially and emotionally.
"It is very hard on clients and all businesses and all business operations. All people working in this environment are really struggling for that emotional contact," she said.
"Staying really connected is a big priority, it's something that keeps us sane. Because Rob and I do so much work that's in the community as well, we really, really felt it… The hard for thing for us, after nine to 10-years in business, our clients are our friends so, it's personal. And when they have a claim, we feel it, we really feel it."