Fitch reveals impacts of Queensland-NSW flooding on insurers' ratings | Insurance Business Australia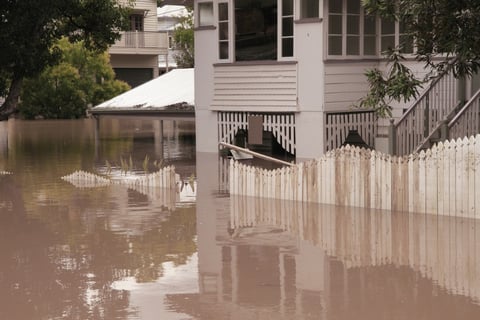 Fitch Ratings (Fitch) said it expects insurers' robust earnings and capital headroom to help their ratings remain resilient despite the recent catastrophic flooding in Queensland and New South Wales (NSW).
However, Fitch warned the insurance industry that higher modelled catastrophe losses and rising reinsurance costs resulting from frequent extreme weather events, along with reduced appetite from global reinsurers, might impact insurance providers' credit profiles over the medium term.
The rating agency also expects much lower net losses to primary insurers from the extreme weather event than the Insurance Council of Australia's (ICA) current gross loss estimate of around AU$2.5 billion due to high reinsurance recoveries. However, Fitch warned that the gross loss estimate might rise further in the second quarter of 2022 (Q2) as the Bureau of Meteorology (BoM) continues to forecast heavy rainfall that might result in severe flooding.
Fitch expects most losses from Insurance Australia (IAG) and Suncorp Group (Suncorp) (A+/Stable), commanding over 50% of non-life premiums in the country.
"The two insurers had already used a large portion of their retentions under aggregate reinsurance programmes in response to events leading up to the recent floods, which should allow them to cede losses to reinsurers faster," the ratings agency said, adding that it also expects QBE Insurance Group (QBE; A-/Stable) to take a hit, albeit to a lesser extent, through its retail insurance operations.
Read more: Queensland, NSW weather event to trigger 'devastating wave' of underinsurance – expert
According to Fitch, insurers have placed more weight on recent weather events to reflect the changing weather patterns. For example, IAG and Suncorp have raised their natural hazard allowances in response to the increased frequency and intensity of extreme weather events.
"Higher net exposure due to frequent extreme weather events, changes to reinsurance structures, or reduced reinsurance capacity could affect our assessment of insurers' capital strength over the medium term. These could result in higher modelled probable maximum loss (PML) figures, which are a key input to Fitch's Prism capital model," the firm said.
"Nonetheless, we believe global reinsurers will continue to provide sufficient capacity to the Australian market as it helps diversify their global insurance portfolios. The federal government is also finalising a AU$10 billion reinsurance pool for cyclones and related flood damage in Northern Australia, which should reduce the burden on insurers and help improve premium affordability."