AIA Australia hosts tree planting | Insurance Business Australia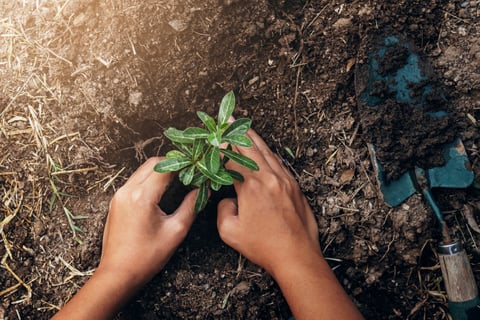 AIA Australia, one of the top life insurance providers in Australia this year, has taken another step towards its sustainability goals by hosting a tree-planting working bee in partnership with The Forktree Project.
The Forktree Project is a not-for-profit that aims to return a degraded 133-acre former pastoral property in South Australia's Fleurieu Peninsula back to nature by re-establishing tens of thousands of native trees and shrubs on the property, as well as bringing back native animals and tens of thousands of tonnes of carbon.
As part of the initiative, AIA Australia CEO Damien Mu joined The Forktree Project founder and AIA Vitality ambassador Tim Jarvis AM and other guests last week to plant trees.
"While awareness of climate change is increasing, the link between the environment and our health needs further attention. We're determined to highlight this connection and help our society rethink how it interacts with the environment for the better," Mu said. "Our partnership with The Forktree Project is a tangible way of bringing our shared value vision to life. By supporting this incredible charity, we hope to educate and encourage all Australians to focus on the small 'somethings' they can do for the benefit of our environment."
Read more: AIA warns of environmental impacts on health
AIA Australia has been working with The Forktree Project since 2021 after the insurer became inspired by the valuable work on the property. Since then, Jarvis has supported the insurer and its efforts to improve the environment's health, a key risk factor impacting human health.
Jarvis said: "Our mission is not only to plant trees but [also] to educate Australians about how a sustainable life can benefit the environment. I'm pleased that through my role as an AIA Vitality ambassador, I can also highlight how this links to the health and wellbeing of individuals and communities."
Based on the estimation that planting one trillion trees globally could battle the impacts of climate change, and with Australia constituting one of six nations representing 50% of the reforestation opportunity, Mu said tree planting has become a significant part of the insurer's local environmental, social, and governance strategy.
"At AIA Australia, we're committed to helping people live healthier, longer, better lives. As a life and health insurer, we're concerned about the prevalence of chronic health conditions and their impact on our customers and the broader community," Mu said.