WoodSolutions offers tips to salvage flood-damaged timber in homes | Insurance Business Australia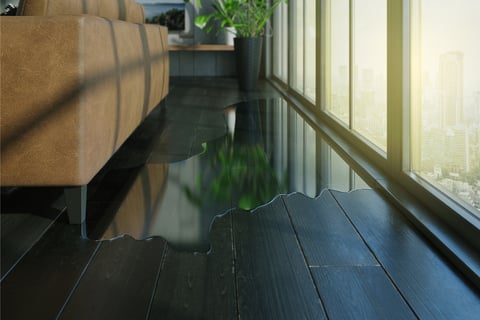 The catastrophic flooding in Queensland and New South Wales (NSW), which is expected to trigger a "devastating wave" of underinsurance, has severely damaged or wiped-out homes and infrastructure.
However, WoodSolutions (WS), managed by the Forest and Wood Products Australia Limited (FWPA), said all might not be lost.
WS, designed to provide free information about timber and wood products to professionals and companies involved in building design and construction, said wood is increasingly expensive to replace. However, the firm has provided tips on how to salvage waterlogged timber, which include:
Acting quickly because mould grows incredibly fast, especially in warm climates. While mould does not damage the structural capacity of timber, it can create a health hazard, especially if you give the timber a chance to decay;
Exposing timber to air by opening walls and other closed cavities to allow airflow. It is usually best to remove deluged plasterboard and insulation as in most cases they are beyond salvage, at least up to the point where wetting occurred;
Measuring moisture content using a moisture meter, available from most building centres and hardware stores, to determine when the wood has dried. Timber framing's moisture content in subtropical areas should be below 15% and at least below 20% to prevent mould growth and decay;
Seeking advice from builders to determine which timber is salvageable and can be reused; and,
Getting more information, for example, from the WS website or its "Technical Design Guide 12 – Impact and Assessment of Moisture-affected Timber-framed Construction," which contains technical information about timer and moisture.
Read more: Westpac warns Australians of insurance scams after catastrophic floods
Aside from seeking flood-damaged timber that can still be reused, Australians affected by the catastrophic flooding in Queensland and NSW should look out for scammers taking advantage of people's goodwill.
Early this month, Westpac claimed that scammers set up fake donation sites and posed as relief funds for people impacted by the extreme weather event in the two states.
"Time and time again, following a significant event or natural disaster, we see an increase in people being duped by scams, for example, after the devastating 2020 bushfires," said Chris Whittingham, general manager of fraud prevention and financial crime at Westpac, as reported by 9News.
Westpac advised people to be on high alert to the possibility of scams and determine if the websites and organisations that set up relief funds are legitimate before donating and sharing personal information. For affected businesses, the bank advised its business customers to register for PayID to ensure they are sending money to a legitimate account.