ANZIIF concludes its 2020 Insurtech Conference in Sydney | Insurance Business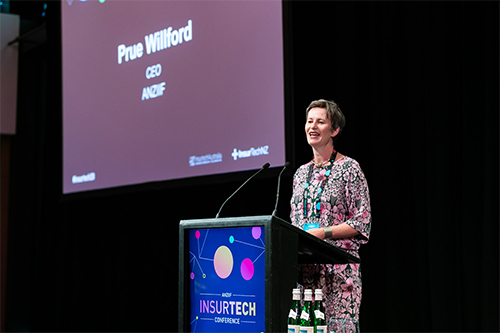 ANZIIF's 2020 Insurtech Conference concluded in Sydney yesterday, with the fourth edition of the event bringing together some of the industry's top insurance and technology figures in what was its most sophisticated and forward-thinking incarnation yet. With speakers having flown in from the United States and the United Kingdom, attendees from within the industry discussed the ever-advancing sphere of insurtech, and challenged each other to continue to improve in the field.
Prue Willsford, CEO of ANZIIF, talked to Insurance Business at the event and explained how the conference had changed since its inception in 2017, as well as providing encouraging insight into how engaged the Australian insurance and insurtech industry has become.
"ANZIIF has always strived to make sure we are relevant within the industry," Willsford said. "And it became obvious that with the technological advancements that were coming, we had to try and play an important part in that conversation."
Read more: "Don't be afraid to ask for advice": Prue Willsford
ANZIIF, she said, has always strived played a part in improving and forwarding the insurance sphere.
"We saw our role as being able to assist in bridging original insurers with the new ideas forming within the technology sphere," explained Willsford. "For us, it was all about that new frontier – and playing a role in bridging the new skills and tools coming into our industry, with the traditional ones that already existed."
The event has grown in attendee numbers year-by-year, and the level of conversation and thinking has followed suit. At ANZIIF's first insurtech event, it was more about getting up to speed and learning about each other's placement in the technology field, than it was about delving into the facets of it.
"When we started, we were attempting to address two quite different audiences," Willsford explained. "We had a large group of start-ups that wanted to understand the insurance eco-system, and then we had insurers who wanted in turn to understand the insurtech eco-system."
"Five years ago, there was still a slight suspicion on both sides," Willsford added. "It was almost the incumbent vs the challenger – it was an 'or' conversation, whereas now it's an 'and' conversation.
"Insurtech start-ups benefit from the incumbent's brand, data and capital – the incumbents benefit from the slick applications that these new groups can build that solve some really pressing issues. This year is the first time where we've produced a conference programme where you've got a much better knowledge on both sides – and we've been able to put forward a really integrated and sophisticated programme."
Read more: Insurtech investment hits new record in Q1
The conference does not intend to serve as a casual networking event, nor does ANZIIF, or those in attendance, intend to rest on their laurels. Rather, ANZIIF coordinates and views the event as a continuation of the important and impressive work the Australian insurance industry does in this field.
"Australia has a small population, but one that is very sophisticated, innovative and capable," said Willsford. "We have a huge amount to offer to the world."