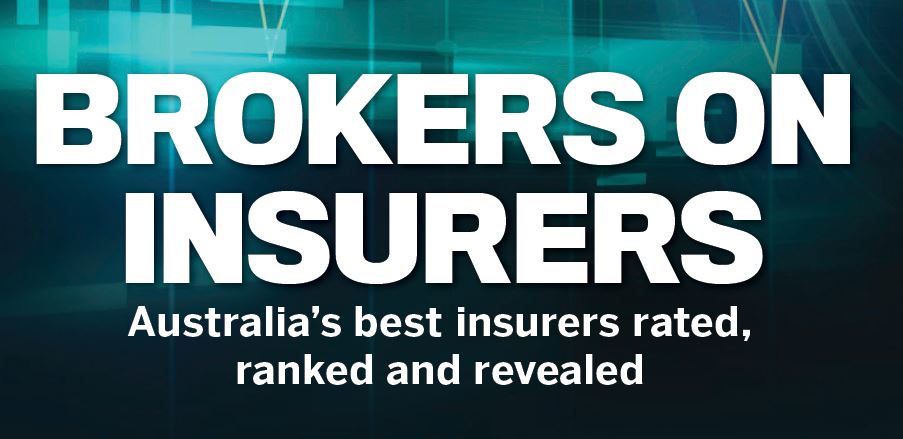 Which insurer is leading the way when it comes to turnaround times on claims? Which insurer is setting the standard for the overall level of service it o­ffers its broker partners on a daily basis? And which insurer has risen to the top of the pack to be crowned Insurer of the Year for 2018?
For the sixth consecutive year, Insurance Business turned to brokers to find out which insurers they feel are delivering the best bang for their buck. As always, IB received a strong response from our readers, who were eager to provide a wealth of feedback on their experiences with Australia's major general insurers. Their scores and comments have been collected and packaged together for this 2018 Brokers on Insurers special report.
As in previous years, IB asked brokers to rate insurers across 11 categories and to identify which individual aspects of their dealings with insurers have been most crucial in influencing their ultimate impression of that company.
So, how did insurers fare in 2018? Who has improved on their 2017 performance, and which insurers have fallen behind? Read on and find out.
Tim Garratt
Editor, Insurance Business
METHODOLOGY

Using our online newsletter and Twitter, Insurance Business invited brokers to rate the performance of several insurers that operate in Australia: AIG, Allianz, Berkshire Hathaway Specialty Insurance, Calibre, CGU, Chubb, QBE, Vero, XL Catlin and Zurich. More than 400 survey participants rated these insurers on a scale from 1 (very poor) to 5 (very good) over 11 categories:

• claims turnaround times • new business enquiry turnaround times
• overall service level • premium stability
• online platforms • BDM support
• training and development • product range
• product innovation • commission structure
• brand recognition

Brokers also rated the importance of each of these categories on the same scale. An average was then generated for each insurer in each category, and an overall average was calculated based on each insurer's performance across all 11 categories. Brokers were also asked a number of questions about how insurers had performed in the most important areas. In addition, they provided feedback on their best and worst experiences with insurers during the past year.

WHAT BROKERS WANT
Insurance Business asked brokers which factors are most and least important to them in their dealings with insurers. Brokers tend to name the same top four factors in precisely the same order each year – and that was the case once again in 2018.
Unsurprisingly, respondents named turnaround times on claims as what matters most to them in dealing with insurers. When a client su­ffers a loss or damage, it's their expectation that the claim process will be as painless and stress-free as possible. And of course, a broker acting on behalf of an insured wants to deal with insurers they know will provide precisely that kind of customer experience.
In second place, brokers once again named overall service level. In today's world, time-poor brokers need to be able to interact with insurance company sta­ff members who can confidently, efficiently and empathetically address their and their insured's questions and concerns. And in a world where technology continues to ramp up the pace of change, brokers now have access to best-in-class customer experiences that they expect to see replicated across the board, including in their dealings with insurers.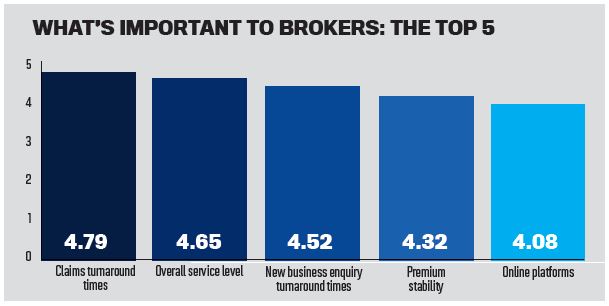 When asked about the best thing an insurer had done for their business or a client within the last 12 months, one broker said, "[They] offered to have a claims consultant sit in my office and help out with progress updates, making live decisions on claims, answering questions, lodging claims on our behalf." Another broker praised an insurer that "paid a claim quickly to the client without any unnecessary delays", while a third was impressed by an insurer that "[took] the time to understand my clients and assess the risks correctly."
Finishing third on the list yet again was turnaround times on new business enquiries, while premium stability rounded out the top four. When premium increases are on the horizon, brokers want to know why so they can prepare their clients for what's ahead. One survey respondent raved about an insurer that "communicated clearly over the phone the reasons for a large premium increase and offered to review the policy to reduce the premium where possible".
Online platforms moved from sixth to fifth place in terms of importance this year. As technology continues to enhance customer experiences across industries, and with more paper processes moving online, it's hardly a surprising move. Brokers increasingly expect insurers to deliver seamless, intuitive online platforms that make vital information exchanges easy.
At the other end of the spectrum, the two factors that usually find themselves at the bottom of the list – commission structure and the insurer's brand recognition – occupied those last two spaces again this year.
WINNING MORE BROKER BUSINESS
Brokers who participated in the 2018 survey were asked how an insurer can win more of their business in 2018. They responded with a plethora of varied and constructive responses.
"Be innovative," one broker advised. "Work with the broker on innovative underwriting solutions to risks … [and] flip the thinking of philosophy from end customer back up the chain through broker and insurer." Another broker suggested an insurer could win more of their business "by simplifying and shortening their proposal forms, by using online systems and by providing the brokers with more plain English materials for both advertising and policy wordings".
Several brokers were in favour of increased use of online systems. "The electronic quoting systems definitely make all the difference," one said. "When we are time-poor, we cannot afford referrals and requests for more information. The easier it is to quote and bind electronically, the more business the insurer will win." However, other brokers stressed that technological upgrades must be balanced with face-to-face interaction. One broker said insurers need to "accept the fact that technology is changing the way business is run and transacted, but to look for a balance with personal service and relationship modelling". Another advised insurers to "continue to focus on personal service. I like to know that my query is being attended to. If I can't have a response within 24 hours, give me an update. Understand my expectations [and] listen."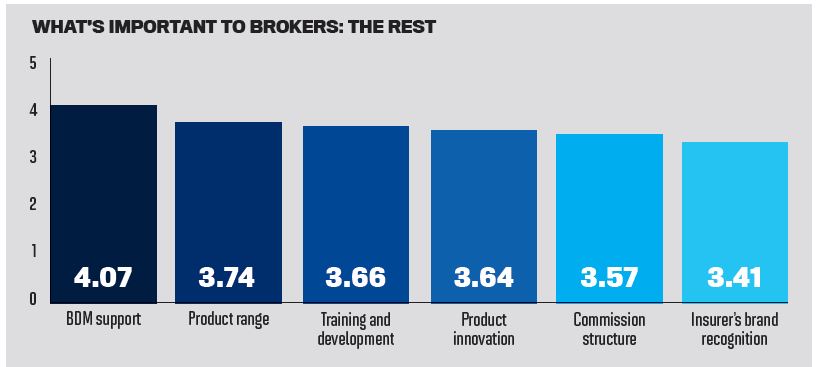 The timeliness of communications between brokers and insurers was an issue raised by several survey respondents. "I understand that you might not be able to write everything; let me know straight away – don't wait weeks to say no," one broker said. Another responded: "Insurers need to be proactive with responding to claims, regardless of the decision to accept or decline. Delays with claims affect the insurer's and our credibility."
Some brokers intimated that they would be more inclined to work with an insurer if they had the opportunity to see more of their people. "Come and visit us in our o ce and ask what you can do for us, and then follow through," one broker advised. Another suggested a stronger relationship would help. "Be more involved in our business," the broker said. "Learn how we work and give us the opportunity to write new business instead of declining all risks presented." And another emphasised the importance of teamwork. "Believe and trust in your brokers, just as we believe and trust in you and your product," the broker said. "Working alone is futile – teamwork is key."
Of course, in a market that is now showing signs of hardening, brokers also made a number of comments about premiums. One is looking for insurers to "provide quick, prompt and fair premiums for risks and service from intelligent operatives". Meanwhile, another broker opined that "insurers need to be realistic on premiums. Rather than trying to push higher premiums, they should be working with us to add value to our client relationship."