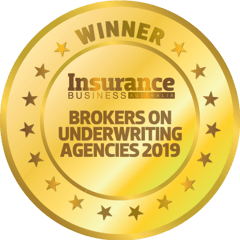 For the last five years, Insurance Business has reached out to readers to discover Australia's standout underwriting agencies and find out what distinguishes these agencies as leaders in their field. IB gave brokers the chance to provide feedback on agencies across 11 product categories, from construction and cyber to product liability and professional indemnity. In addition to giving brokers the chance to name the best businesses, we also asked them to single out their favourite products – and importantly, tell us what's most important to them in their dealings with underwriting agencies.
What brokers are looking for in an underwriting agency has remained remarkably consistent over the years. For every year since the survey's inception, brokers have ranked coverage as the most important aspect of their relationship with underwriting agencies. Broker support retained its second-place spot from 2018, an indication of both brokers' commitment to continual learning and their need for underwriters to help them get to grips with new subject areas. Turnaround times and service levels, meanwhile, tend to rotate in importance from year to year, but are always at the top end of brokers' priorities.
By contrast, commission structures – which have routinely attracted the most criticism from those outside the industry – have consistently remained at the bottom of the priority list. It's a telling result, and one that's perhaps indicative of the disconnect between those who work within the broking industry and those outside of it.
It's these sorts of stereotypes that this survey intends to break down. Since its inception, IB has maintained a commitment to recognise how underwriting agencies contribute to the Australian insurance market. The Brokers on Underwriting Agencies survey is our way of recognising those within the industry who have delivered exceptional service to brokers and products to clients. Read on to discover which underwriting agencies distinguished themselves among their peers in 2019.
METHODOLOGY
Using our online newsletter and social media, Insurance Business invited brokers to complete a survey, asking them to name the top three underwriting agencies in 11 product categories. The categories chosen were those deemed by IB to have the most significant number of market participants in the Australian agency space. Respondents were also given an opportunity to name the best insurance product provided by an agency in the last 12 months. Responses to that free-form question were used to determine the medal winners in the Brokers' Pick category.

Additionally, brokers were asked to share their thoughts on which aspects of their dealings with underwriting agencies were most important to them and what agencies can do to win more of their business in the next year.