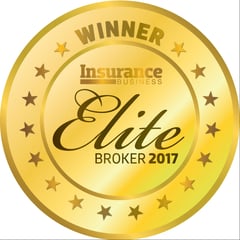 Welcome to the 2017 Insurance Business Elite Brokers list.

This year marks the fifth occasion on which Insurance Business has set out to find insurance brokers across the country at the top of their game – fine examples of the enormous value the sector provides to the wider community.

This year, we've decided to change our approach slightly. In previous years, we've published a full ranking list of the top brokers who entered. But this year, in our efforts to place more emphasis on the fact that being named an elite broker is significant recognition on its own, we have decided not to publish any final rankings and instead shine an equal share of the spotlight on each of the top entrants who qualified for our Elite Brokers list. You can find the names and faces of those brokers on the pages that follow.

It remains our privilege to be able to acknowledge some of the high achievers in broking in Australia. We'd like to offer a sincere thank you to everyone who applied to be a part of the Elite Brokers 2017 report, and we look forward to bringing it all back again in 2018.

METHODOLOGY
The Insurance Business ranking system is an objective means of ranking the best performing insurance brokers in the country– not just those with the biggest portfolios or the largest clients.
Each broker was required to supply their own details to Insurance Business to be eligible, along with details of a contact who could verify those figures.

There were eight criteria, covering:
• Number of policies written
• Total revenue
• Revenue per policy
• Number of clients
• New clients
• New client revenue
• Client retention

Each broker was ranked in each of these measurements and the sum of all of their rankings was calculated to determine those who would receive recognition. While no rankings have been published this year, this methodology was used to determine the brokers included in this report.