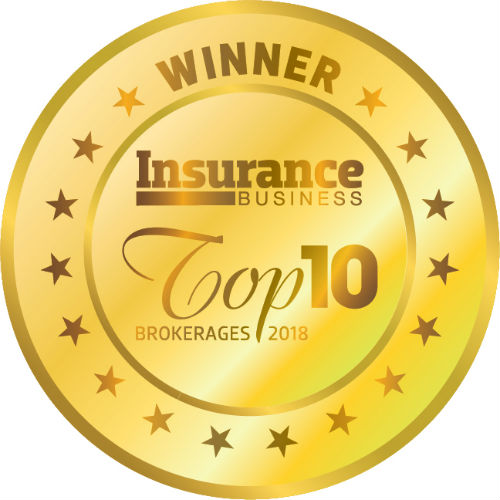 Welcome to Insurance Business' annual Top 10 Brokerages list. The brokerages that made this year's Top 10 have reached an impressive pinnacle – one that's a testament to the quality of sta­ff within their organisations.
The methodology for determining the top 10 is deliberately aimed at ensuring brokerages across the spectrum can be included. Rather than looking at revenue alone or sheer number of brokers, Insurance Business looks at a more qualitative set of data to truly find the top brokerages in the country.
Additionally, given the fluctuating state of the insurance market over the last few years, this special report presents vital stats from past instalments of the Top 10 Brokerages to illustrate just how much things have changed. As might be expected, some areas have seen stronger performance than others. The number of policies written, in particular, has dropped drastically since 2013. Growth has also fluctuated considerably, though it's pleasing to see that brokerages are still growing.
Most areas remain a powerful testament to the strength of the Australian insurance industry. Client retention remains high from year to year. Revenue has also risen, along with average new revenue and revenue per broker. Clients might not be lodging as many policies, but they appear to be willing to pay a premium with their increased selectiveness.
As with any other industry, insurance is trend-driven. Certain policies go in and out of fashion, or their nature shifts due to prevailing societal currents. Similarly, new technology has and will continue to exercise a significant impact on the industry as a whole.
One need look no further than the increasing importance of cyber insurance – a field scarcely discussed 20 years ago, but one now increasingly necessary. Though cyber insurance will continue to evolve and change over time – as does every discipline of insurance – it seems hard to imagine a future without it in some form.
Technology is something brokerages must embrace, too. More sophisticated technology has enabled far greater accuracy when assessing potential exposures. Similarly, the sheer volume of business that's able to be conducted far outstrips that of previous generations. Brokers working today are fortunate to have such tools at their hands.
Looking forward to 2019 and beyond, it is readily apparent that there will be a number of significant challenges for Australian brokerages. There's no doubt that there has been a general hardening of the Australian insurance market, which has been driven by numerous factors. Some are connected to wider economic circumstances, while others are driven by legislation, shifting markets and increased exposures in unanticipated areas.
Professional indemnity is also moving to the forefront for many organisations. As Australia becomes an increasingly litigious society, it's crucial for organisations to protect themselves. Brokerages can provide key advice in this area, helping guard clients against undesirable financial loss and potentially even more damaging reputational loss.
Perhaps most significant will be the outcome of the royal commission (still ongoing at the time of writing), which will publish its preliminary report at the end of September. The findings will undoubtedly be of interest, and the full report – due by February 2019 – will give many brokerages pause for thought.
There are undoubtedly challenges ahead in the coming years, but there are also many reasons to be optimistic about the future of insurance in Australia. The royal commission, for example, presents the industry as a whole with the opportunity to right previous wrongs and to rehabilitate its image in the public's eye. Similarly, a hardening market does not mean a stagnant market. Technology and legislation will shift again, presenting brokers with new, unforeseen opportunities. The insurance market is nothing if not innovative.
Congratulations to all of the brokerages in this year's Top 10 – your achievements should be a source of considerable pride, both now and into the future.
THE METHODOLOGY

The Insurance Business Top 10 Brokerages ranking is an objective means of ranking the top-performing brokerages in the country across eight businesscritical criteria, including:

- Total revenue
- Policies written
- Revenue per broker
- Policies per broker
- New clients per broker
- New revenue per broker
- Company growth
- Client retention

As in previous years, each brokerage that entered was required to supply its own details for the 2017–18 fi nancial year. Brokerages were ranked according to each of the above criteria, and all of the rankings were then added together. Akin to a golf score, those brokerages with the lowest overall scores achieved the highest rankings.

The Insurance Business ranking system means businesses are rewarded for business per broker rather than critical mass, which ensures that the very best brokerages are singled out.