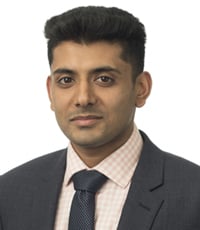 Daniel Devasagayam, nib Travel
Global underwriting and portfolio manager
Daniel Devasagayam is a key leader in nib Travel Group's underwriting and strategy team who is well-regarded for his deep industry knowledge, strong work ethic, and collaborative spirit.
As global underwriting and portfolio manager, Devasagayam is responsible for driving the underwriting performance of nib Travel, working with underwriting capital providers globally. This involves ensuring product profitability across all partnerships and travel insurance products. He also leads key underwriting transformation initiatives and evaluates commercial propositions to facilitate growth at nib Travel.
Devasagayam played a crucial role in the sale of QBE Travel to nib. After the deal, he helped lead the integration of the acquired business with nib Travel. Devasagayam also contributed to the insurance industry through his work in improving industry stance and customer outcomes in relation to mental health coverage in travel insurance.