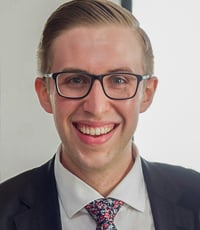 Dylan Orloff, National Transport Insurance (NTI)
Business development manager
Dylan Orloff is the youngest business development manager in the history of National Transport Insurance (NTI), recognised for his above-normal standard of knowledge and expertise, high level of enthusiasm and willingness to get the job done, and good interpersonal skills.
In his current role, Orloff reviews, issues, and amends quotations and renewals; facilitates and processes policy endorsements; assesses and analyses client risk; provides innovative risk mitigation strategies and programs; and develops and maintains strong broker relationships.
Orloff joined NTI in 2018 and has since then made outstanding contributions to the team, including becoming one of the standout users of the company's internal sales platform; coordinating numerous marine sales campaigns, actively participating in a company-wide project for increasing expertise in a niche market; performing the role of marine policy auditor; and reviewing training modules and co-developing coaching programs and personal risk authority assessments.
Orloff is now set on continually developing his commercial and managerial skills, as he aims toward achieving progression to a state manager and/or national manager role.