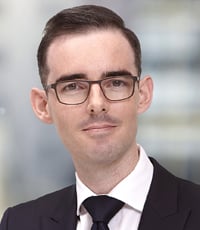 Luke O'Kane, Clyde & Co
Senior associate
A passionate, intelligent, and genuine person with a level of maturity and professionalism that is beyond his years – that is how Luke O'Kane is regarded by his colleagues as an insurance professional.
As a senior associate in Clyde & Co's contentious insurance team, O'Kane mainly practices in the areas of casualty, product liability, and professional indemnity insurance. He is regularly engaged to provide advice to Australian, American and London-based insurers on coverage in litigious and non-litigious claims, as well as conduct the defence of matters at both first instance and on appeal.
O'Kane, who has been with the firm since 2017, has made a number of significant contributions over the past year. Throughout 2019, O'Kane's matters have involved proceedings at all jurisdictional levels in New South Wales, Victoria, and the ACT. He also ran several matters in the Supreme Court of Western Australia. Some of his notable achievements include:
participating in Clyde & Co's Global Associate Program in the United Kingdom;
acting as a claims manager for one of Australia's largest commercial construction companies;
successfully negotiating the repayment/recovery of funds fraudulently stolen for a large, publicly-listed corporation without commencing proceedings;
developing an Australian insurance law portal for the use of London-based insurer clients and practitioners; and
presenting to a large number of London clients on burgeoning areas of risk in the Australian construction industry and in mass tort/class action litigation.
Not only does O'Kane take an active leadership role in Clyde & Co's insurance practice, he is also heavily involved with a number of industry related associations and groups, including The Australian Insurance Law Association and The Australian and New Zealand Institute of Insurance and Finance. In addition, he regularly attends insurance-industry seminars and networking events.