Jump to winners | Jump to methodology
Future of insurance
All parts of the industry want to make processes more efficient, and the 2023 IB 5-Star Insurance Innovators awards celebrate those who are on the cutting edge and some of the most innovative insurance companies in Australia and New Zealand.
Mark Silveira, general manager – industry engagement at ANZIIF, says, "Insurance companies are getting to be very, very innovative. If you look at some of the changes that have happened, we've done away with a lot of the repeat filling in the forms. We're providing the ability for claim settlements much earlier than in the past and finding ways to cut through the red tape."
However, difference makers and standout operators like IB's 5-Star Insurance Innovators are taking that extra step.
"There's some real opportunity to expand our thinking past the traditional insurance framework," Silveira says.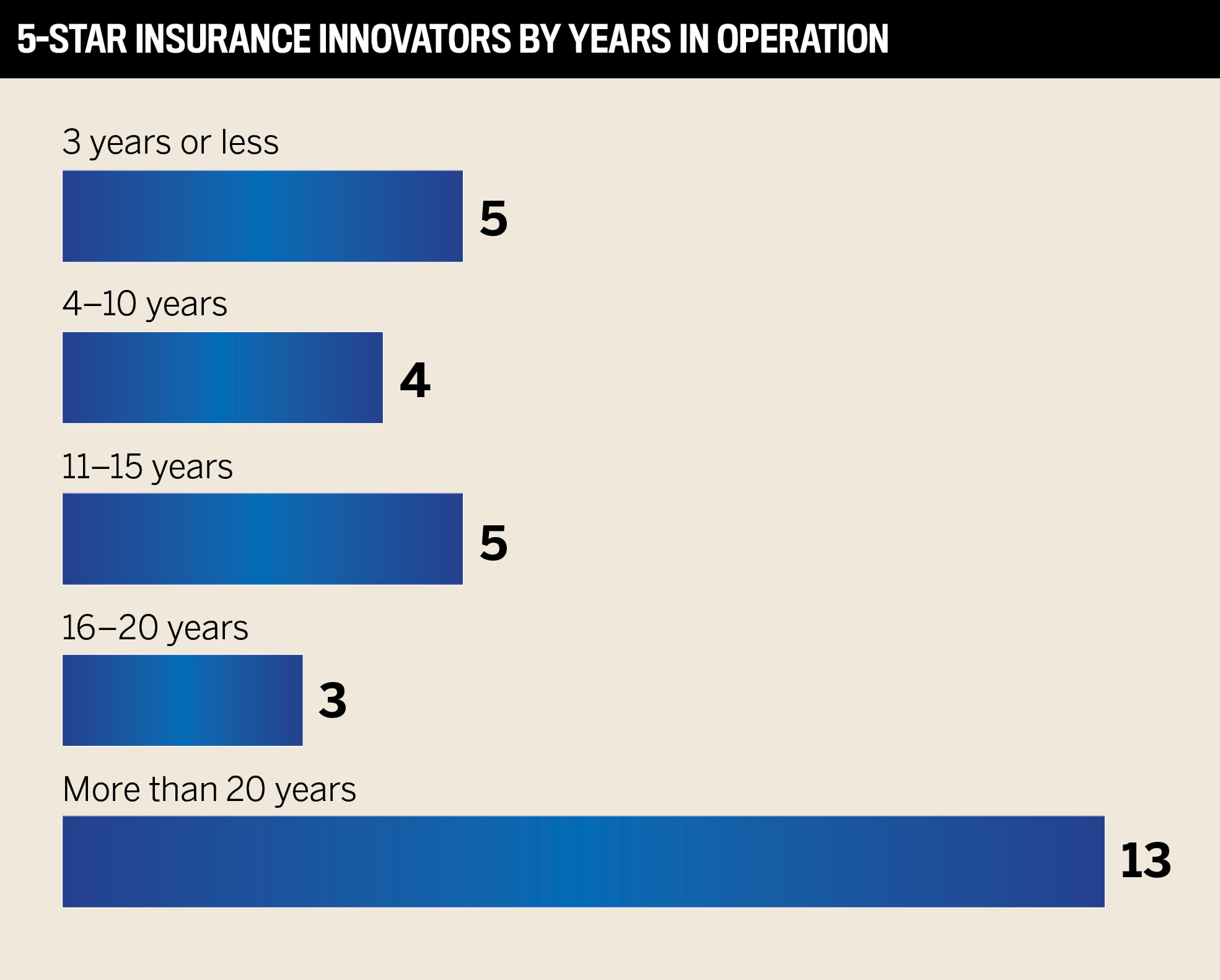 Reinventing the wheel
Crawford & Company Australia might have been founded in 1941, but it is leading the way in that regard by going beyond traditional methods.
"Last year, we had a client come to us frustrated that its high-value residential claims were taking too long to conclude and costs were blowing out," says president Tim Jarman. "What we did was to develop an entirely new claims journey for claims over $100k in value."
The firm developed what they referred to as their "Large Loss Solution", centred around the repair or reinstatement of large residential losses. That has developed into the One Crawford approach, which brings together:
specialty loss adjusting


CRD building consultants and engineers


deliver a flexible working environment


contractor connection (their managed repair arm)
Crawford can do this because it has in-house experts able to provide support at different points in the process.
"Essentially, the traditional process sees an array of players that may or may not be present in the many and varied settings of a large loss claim," says Jarman. "Our model drives superior outcomes in every setting, with key roles being assigned from the initial triage throughout the Crawford ecosystem."
Jarman adds, "We eliminated our client's problems and have totally transformed these types of claims. After just a few months, the client's satisfaction scores with its policyholders improved dramatically."
As a result of the team's proactive attitude, Crawford has been able to drive:
collaboration: loss adjuster, CRD, the client's own internal large loss team, and pre-selected repair contractors work collaboratively to drive claims to a conclusion


validation: scopes are co-produced by the relevant experts with a select group of contractors


timeliness: less time in the tendering process means repairs are started sooner, minimising the loss of rent and alternate accommodations costs to the insurer


cost control: throughout the reinstatement, with an aggressive approach to variations


greater customer assurance: a professional team works with them that understands the same set of practices
Below is a comparison of the traditional method vs the new method on similar claims:
295 days vs 101 days to completion


$190,000 vs $250,000 initial reserve


$228,000 vs $208,000 final reinstatement
Crawford is, however, tempering its innovation by only introducing what works in the real world and without forgetting that they are still dealing with clients who need support and understanding.
"While we are actively looking at and testing artificial intelligence globally and understanding how it can improve our service offering, I don't believe a piece of tech can be empathetic, and so all of the technology we implement has to be tested through the lens of people," says Jarman.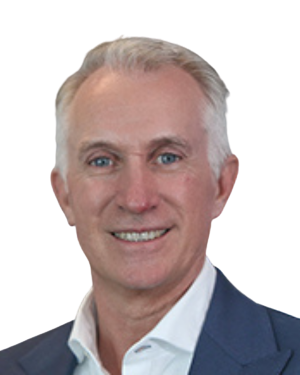 "The innovative solutions we are constantly challenging ourselves to devise are designed to take the hassle out of insurers', brokers' and corporates' claims management"
Tim Jarman
Crawford & Company Australia
Every second counts
A minute is a long time for clients of IQumulate Premium Funding. The firm, based in Victoria, has worked hard to improve and refine its flagship online quoting tool, Edge. It has been reengineered to improve efficiencies and is now called IQEdge, which can:
produce an online premium funding quote in under 60 seconds


empower clients to spend time on core business


provide users with the ability to compare quotes and create versions of quotes in a single tabular view
"The IQEdge platform encourages our clients to adopt a 'self-service' model, empowering them to manage their time and output, with smart, simple-to-use technology, designed to provide our brokers with confidence to create and compare new quotes, endorse or renew loans online in real-time during conversations with their customers (borrowers)," says CEO Wayne Tower.
Describing themselves as "forward-thinkers", IQumulate is committed to continue innovating and pushing forward.
"We are on a technology journey, and we're just getting started," says Tower. "Faster decision-making innovations such as AI-powered decision support systems can expedite the underwriting and approval process, leading to quicker responses to clients."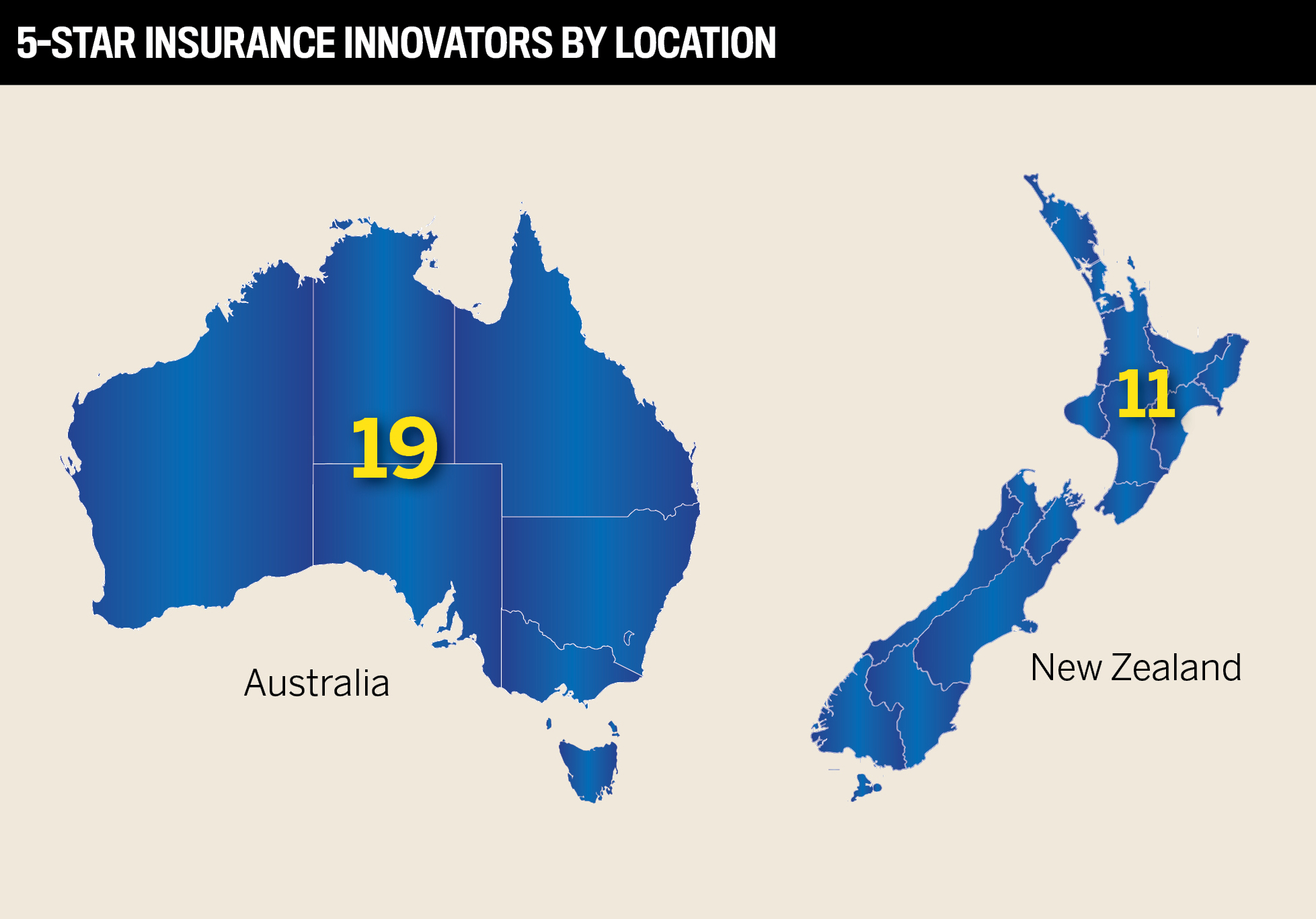 The human touch
Going that extra step is the calling card of Gallagher Bassett. The company focused its innovative efforts on dealing with the occurrence of multiple major catastrophe events and the resulting emotional and mental stresses associated with claims, particularly for homeowners whose largest financial asset was impacted.
"Our support program is designed to provide additional wellbeing support for claimants who have suffered a loss, such as damage to their home or involvement in an accident, and their immediate family members," says global vice president Andrew Spilsbury.
The program encompasses a range of services beyond material damage concerns and includes assistance via either telephone or video support sessions for impacted members, covering:
emotional wellbeing


physical wellbeing


social wellbeing


financial wellbeing
And trauma responses, which include:
"Our focus on holistic support has led to increased customer satisfaction, improved brand reputation and strengthened client relationships," says Scott Newland, general manager – government and long-tail claims. "By combining internal expertise with external perspectives, we ensure that our innovation efforts align with the actual needs and demands of our clients and the broader market."
Gallagher Bassett also released a global insurance industry whitepaper titled "The Road Ahead," which surveyed hundreds of insurers from around the world to identify key trends, challenges and opportunities. It has provided insights and guidance for insurers on how to navigate the rapidly changing landscape, including keeping pace with technology, addressing the talent crunch and stabilising businesses in the face of ongoing economic uncertainty.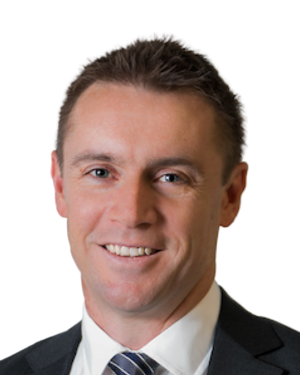 "We prioritise embracing cutting-edge technologies, creative problem-solving and continuous improvement to enhance our premium funding solutions"
Wayne Tower
IQumulate Premium Funding
Smart solutions
New Zealand firm Bounce Insurance has revolutionised earthquake coverage, which traditionally covered significant losses, but claims were slow, impeding recovery efforts.
"Not only does our product capability allow us to proactively provide an upfront cash flow solution to customers after a quake, but it also sets a platform to provide innovative solutions that mitigate the impacts of other natural disasters, such as those brought about by climate change," says founder and managing director Paul Barton.
It has seen them reach 300% customer growth and customer retention of over 96%.
While Auckland-based JAVLN's advanced software for brokers, agencies and insurers runs on a secure cloud-based policy platform, it is readily available from any device or location.
"We're a policy management platform, so we're managing all of the insurance accounting, the underwriting and the pure policy management," says founder and CEO Dale Smith. "But around the edges, we have a whole lot of capability around automation connectivity. One of the things that we're super proud of is that we are now connected directly to 3 insurers."
And DUAL New Zealand is a property, liability, cyber, motor and specialty underwriting agency.
"We developed what we call the WebRater – an online quote and binding platform that sits as an API into our operating system behind the scenes," says general manager Paula Sheppard-Jones.
"That allows our brokers to 24/7/365 quote and bind liability and financial line risks for about 500 occupations. It takes about four minutes for the brokers to get a quote. So, we're saving days and days, if not weeks, sometimes in our industry for the brokers to get a turnaround."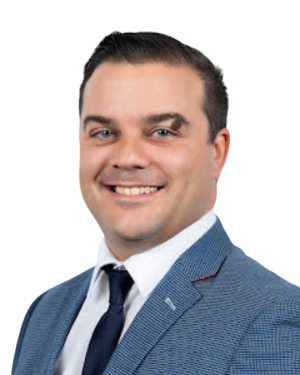 "Our unique approach to general lines claims support and our comprehensive industry analysis demonstrate our commitment to fostering a culture of innovation and delivering exceptional outcomes for our clients and communities"
Scott Newland
Gallagher Bassett
1WordFlow
Advisr
Agile Underwriting Services
Blue Zebra Insurance
Bounce Insurance
CLAIMYEXCESS
Crawford & Company Australia
DKG Insurance Brokers
DUAL Australia
DUAL New Zealand
DXC Technology
Folio.insure
FreightInsure
Global Financial Services
Honan Insurance Group
Initio Insurance
InsuredHQ
Intellimin
JAVLN
Kanopi
Norton Rose Fulbright
NZ Roadside Assistance – NZRA
RedBook New Zealand
Sedgwick Australia
Stelvio
Tokio Marine Australasia
Tower
Woodina Underwriting Agency