Jump to winners | Jump to methodology | View PDF
WELLNESS IN THE WORKPLACE
The past 18 months have been a time like no other for employers across the globe as work-life balance, health and wellbeing, and an employer's responsibilities to their employees were thrust sharply into the spotlight throughout the COVID-19 pandemic.
Coupled with the changing expectations of a newer workforce, traditional insurance and financial services companies have been prompted to reconsider the qualities that constitute a top workplace.
While some issues like diversity and inclusion, training, and career progression have been discussed in the insurance sector in New Zealand for a long time, other concerns such as flexible working, out-of-work responsibilities, and physical and mental wellbeing have attracted more attention throughout the pandemic. Employers have had to focus their efforts on how to maintain a happy and healthy workforce in a setting where work and home life can so easily blend.
In its third year, the Insurance Business New Zealand Top Insurance Employers list celebrates the firms that consistently pursue a commitment to being an exemplary employer. The research explores various aspects of workplace values, benefits and culture, and provides employers the opportunity to showcase their latest employee programs and initiatives.
IBNZ's survey results show that one of the main issues to arise from remote working throughout the pandemic was work-life balance. As parents juggle homeschooling, increased domestic responsibilities and work, companies have been more conscious than ever of enabling their employees to maintain a clear distinction between their home and working life. This has brought a slew of new benefits to many organisations that encourage their employees to take time out for the things that truly matter to them.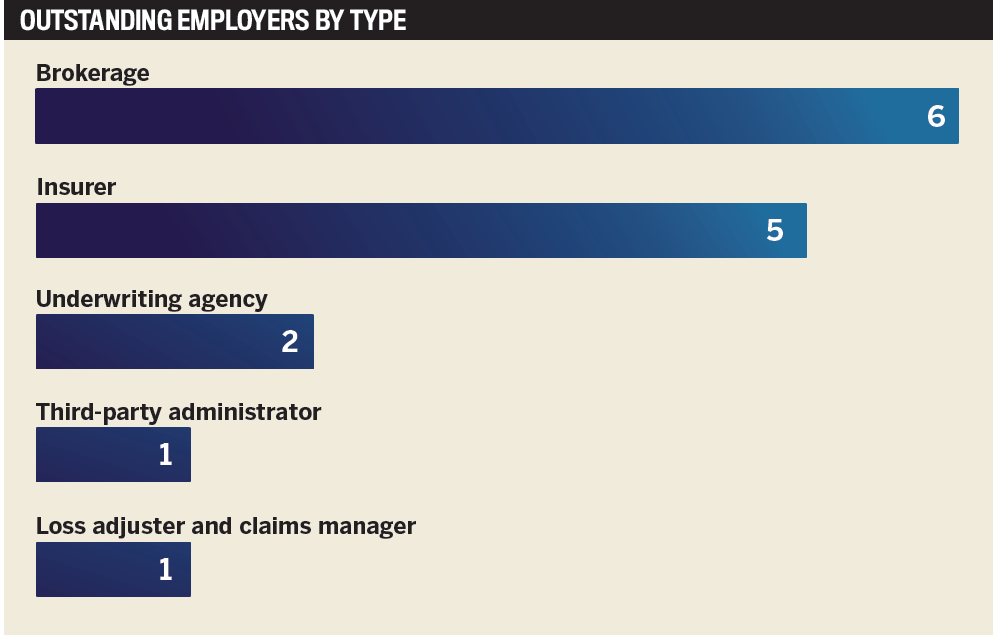 Work-life integration through flexibility
Commenting on the evolution of its flexible working policies, Top Insurance Employer Resolution Life Australasia has highlighted its new initiative to give employees choice around how they work. Megan Beer, CEO, notes that part of the move has been to "not view flexible working as a lack of commitment".
"Work-life integration is a valued component of our employee value proposition," Beer says. "Resolution Life strives to create a workplace that supports work-life integration and provides our people with choice, flexibility and support for the way we choose to work."
She explains that the company's new flexible working policy offers a virtual workplace so that "our people can work from any location where we have a presence, be it at home or from our offices. All of our employees are encouraged to share updates from their life through our communication channels, and our leadership team frequently shares updates on how they effectively balance work and personal responsibilities.
"Flexible work is not viewed as a lack of commitment, and career advancement for part-time employees is encouraged through equal development opportunities. We see the importance of being able to integrate our work and personal life, finding the right balance of our personal purpose, which will enable us to deliver on our strategy, purpose and vision whilst managing a sustainable lifestyle."
Health is essential
Investing in employee health and wellness is also a key theme throughout the results, as COVID-19 has highlighted the importance of employers contributing directly to boosting physical and mental wellbeing.
The majority of winners set aside health and mental wellness benefits for employees, offering wellness days, gym benefits and training on serious issues such as alcohol and drug awareness, mental health, and ergonomic working.
Kevin Blyth, CEO of Allianz Partners, says the benefits offered to employees throughout the past year have been extremely successful, and having a fit and healthy workforce is essential to the company's values and strategy.
"To support [our employees] in managing their health, we contribute to a wellbeing or fitness-related cost in the form of an annual allowance to the value of $250 per year. This was a very well-received benefit," Blyth says. "So the winter months don't slow our team down, we also offer everyone a free flu shot each year. We reimburse our employees for one eye examination each year to the value of $60, and we provide our employees with insurance covering life and total and permanent disability insurance, as well as income protection insurance."
The company also provides employees "access to free, independent and professional counselling through our Employee Assistance Program, and this year we introduced a volunteer day where all our employees are encouraged to [take] a full day's paid leave every year to give back to the community," Blyth adds. "We have also introduced meeting-free Thursdays and reduced all meeting times to 45 minutes as part of our solution to help improve well-being, reduce stress and manage workload."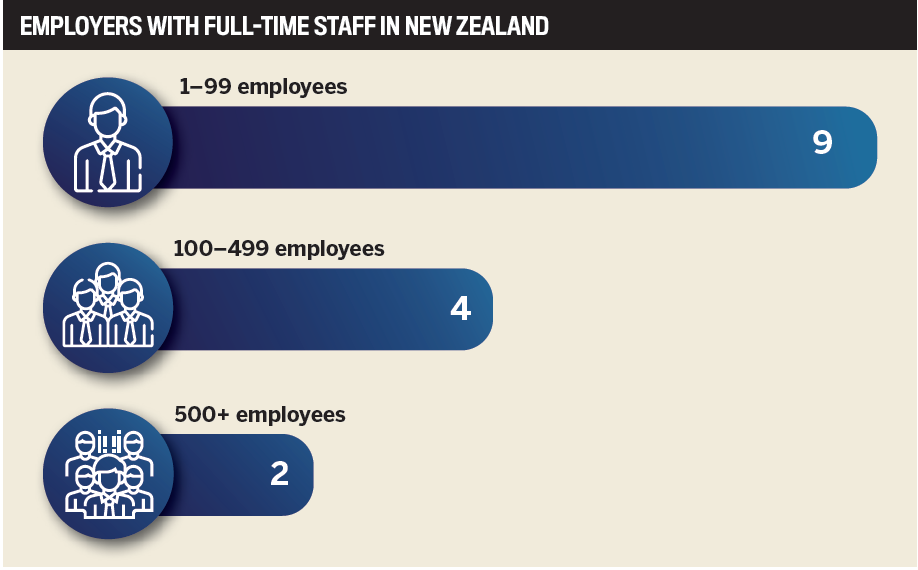 Diversity and inclusion as priorities
Outside of the issues raised by the COVID-19 pandemic, diversity and inclusion strategies have continued to be a core part of every employer's focus when considering people and culture. Most of the 2021 Top Insurance Employers highlighted strong male-to-female ratios across both general and leadership roles, and all companies affirmed their dedication to hiring from across all backgrounds and walks of life.
The Gallagher Bassett team detailed a vibrant D&I calendar that includes training initiatives and events happening throughout the year to support LGBTQ+ communities and ethnic minorities.
"At GB, we recognise the importance of having a culturally diverse and inclusive workforce," Gabrielle Cook (National People & Culture Manager) says. "We believe that understanding and responding to our clients' needs is best accomplished when our people reflect the diversity of our clients, and that their backgrounds, perspectives and life experiences are valued.
"We strive to create a supportive and inclusive workplace that harnesses the unique perspectives, talents and experiences of our people," he continues.
"Our approach to diversity and inclusion is underpinned by specific processes, policies and practices which are aimed to give all people at GB the greatest potential to thrive, and are championed by a dedicated committee," Craig Furness, CEO at Gallagher Bassett says.
The Gallagher Bassett adds that the company's D&I events celebrated throughout the year include Harmony Day, Pride Month and Transgender Day of Visibility. "We engage our staff to share their stories through profiles, panels and their collaboration in developing resources for their colleagues."
Without exception, the rise of remote working has forced every employer to re-examine their communication strategies and digital tools, and the 2021 Top Insurance Employers were no different. Every company listed has invested heavily in digital tools to help communicate effectively with staff in remote settings. Many of the organisations noted that one-on-one time with managers and opportunities to voice concerns are also important.
Without a doubt, the definition of what makes a good workplace has shifted dramatically over the past 18 months, as long-shelved issues of flexible working and employee wellness took centre stage during a time of global upheaval. However, the submissions from IBNZ's 2021 Top Insurance Employers prove that the insurance industry in New Zealand has risen to the challenge and is committed to fostering a strong, diverse and supportive environment for its workforce.
AIA Insurance
Allianz Partners
Bridges Insurance Services
Crombie Lockwood
Dawson Insurance
Delta Insurance
DUAL
Gallagher Bassett
McLarens Group (NZ) Ltd
Protecta Insurance NZ Limited
Resolution Life Australasia
Sherpa Insurance Brokers & Advocates
Zurich New Zealand
Nominees were asked for details about their operations, number of employees, average tenure of staff and turnover rate over the last 12 months (taking into account pandemic-related border closures and downsizing). They were also asked to provide an employee engagement score and details of the methodology used to obtain it.
Nominees described their key achievements, activities, programs and results across several areas including remuneration, training and professional development, career progression, diversity and inclusion, access to technology and resources, communication, work-life balance, health and wellbeing, and rewards and recognition.