Is mental health a vital aspect of health and safety? Claims expert weighs in | Insurance Business New Zealand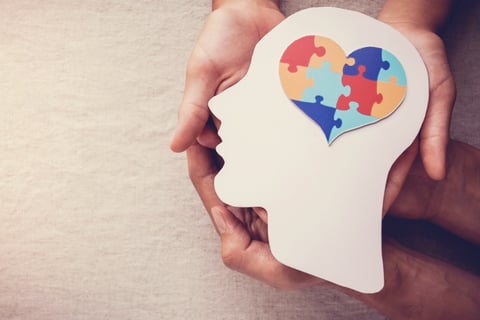 This article was produced in partnership with Gallagher Bassett
Ksenia Stepanova of Insurance Business sat down with Gallagher Bassett New Zealand CEO Craig Furness, and chief client officer Steven Walsh, to discuss how mental health has evolved in relation to personal injury claims, and how employers can better manage their risks
Mental health and wellbeing has been given increased focus from employers over the last few years, but with the impact of COVID-19, lockdowns and remote working, experts say it is no longer just a people and culture issue - it is a health and safety issue, and the risks to employers are constantly increasing.
The New Zealand Mental Health survey estimates that almost half of New Zealanders will meet the criteria for a mental illness diagnosis at some stage of their lives. The last 18 months have caused stress levels to skyrocket, and for employers, managing this effectively has implications not only for their workforce, but also for the performance of their business.
According to Personal Injury claims administrator Gallagher Bassett, mental health has also become an increasing component of workplace personal injury claims. Based on its experience of working with employers, it says that firms are now becoming more aware of the importance of managing the mental health risks among their staff - and for Gallagher Bassett, this has meant a strong focus on supporting employer clients in this area.
"We've been supporting employers with their personal injury management as part of the Accredited Employers Programme, and we know through this work that mental wellness has been a big focus for employers," chief client officer Steven Walsh said.
"We have a wealth of knowledge around what we can do to support those businesses, and how we can help them to look after their people."
Read more: Insurance and mental health: More progress needed
"This has been a big focus of ours for a long time now, especially as we are seeing this aspect now imbedded as part of the requirements under the Health and Safety at Work Act (HSWA) within the workforce," he explained.
"In its early period of introduction, it was very focused on the 'safety' aspect - but now it definitely includes the 'health' aspect, and mental health is definitely a work-related health and safety risk to be managed. This inclusion requires employers to consider the potential for work-related health conditions, as well as the injuries that could occur."
Gallagher Bassett manages a significant proportion of personal injury claims in New Zealand, and is the only Third Party Administrator (TPA) that does this globally. It has longstanding experience in working with existing employers already participating, as well as those looking to transition to the ACC Accredited Employer Scheme (AEP).
Commenting on its work with employers, CEO Craig Furness said that mental health is often a vital part of an employee's recovery from injury - even if the two factors were previously unrelated. He said that helping employers understand these interactions and manage them effectively is often key to getting the employee back to work quickly, and is something that inevitably pays off for the employer in the long term.
"We don't only do claims management, we also help manage risks for employers," Furness said.
"A big part of managing those risks is thinking about how you can prevent claims in the first place, and where there is a mental health component of a person's injury or recovery, it's really important to have an understanding of mental health and how you might treat and react to that.
"That's a really important part of how you can get people back to work sustainably, in the long term. So there's a real tie-up here between the core part of what we do, and how we can support our employer clients.
"I think mental health is absolutely central to safety in the workplace. We've encouraged employers to put mental health right at the centre of their wellbeing processes and strategies."
Furness noted that there is an abundance of statistics demonstrating the link between mental health and sick leave, absenteeism and overall productivity - however, despite an increase in open conversations, the stigma around mental health still lingers.
"One of the reasons I encourage employers to place mental health at the front and centre of their wellbeing strategy, is the cost of failing to do so can be incredibly high – not just for their business but for the New Zealand economy, as it is in the billions of dollars," he explained.
Read more: Mental health objectives have never been more important
"There's been an enquiry that estimated that the mental health-related cost to the New Zealand economy is over $10 billion," and some commentators think even that number is too low, whichever way you look at it, it is a substantial cost to New Zealanders, Furness said.
"Employers want their people to be healthy and safe at work, but there are stats that show people who report a higher level of psychological distress had three and a half days more off work than those with less stress," he noted. "So, if you can manage the wellbeing of your people, you're going to keep them at work and being more productive, which also improves their home life.
"There are a lot of statistics around costs to the employer if you don't manage this well, and there is a lot of material that talks to the differences in the perceptions of what employers are doing through the eyes of the employees.
"Understanding what those differences might be is important, and I think there is still a bit of stigma around talking about mental health in some places."
"From our perspective, those employers placing mental health at the centre of their wellbeing strategy go a long way to breaking down the barriers between themselves as an employer and their staff," he concluded.
"We have to acknowledge that during this time, people are reacting in different ways to the pressures that we're under. One of the things we can do is just encourage people to talk - to their colleagues, to their family, whoever it might be. Just talk about it, and get some support."
Craig Furness has over 16 years' experience in the insurance industry, and was appointed CEO of Gallagher Bassett New Zealand in 2021. He has a deep understanding of New Zealand's insurance market, and its unique risks and opportunities. Steven Walsh has over 20 years of experience in the financial services sector, and has been chief client officer at Gallagher Bassett for over four years. He has a strong leadership background with experience in managing sales, business development, marketing and accounting.