Accuro names new board chair, member | Insurance Business New Zealand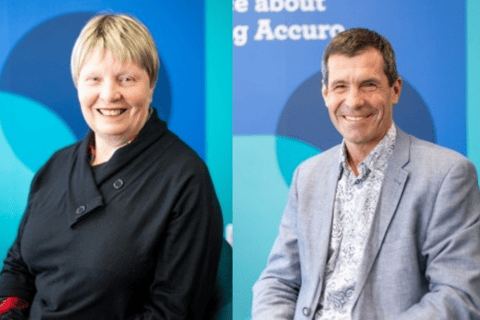 Not-for-profit health insurer Accuro has elevated deputy board chair Marion Guy (pictured above left) to board chair, succeeding the retiring Tony Haycock. Richard Kirkland (pictured above right) also joined the company's board.
"The last nine years has been a very rewarding journey," said Haycock, who was a director at Accuro for nine years and chair for the last five. "I am leaving Accuro at a time when it is in great shape. We have carved out a strong point of difference and continue to innovate. Membership has grown above industry norms, based on great service and a desire to always do the best for our members; something which is reflected in our consistently high levels of customer satisfaction."
Guy, a registered nurse with three decades of health sector and governance experience, has been on the board since 2016.
"It's an exciting time to be leading New Zealand's best little health insurer, as we continue to implement new initiatives and technology to deliver even higher levels of member service and face the challenges ahead," Guy said.
Kirkland, has been appointed to fill the vacancy left by Haycock, brings considerable experience in technical and regulatory aspects of insurance and finance.
"I am delighted to be involved as I am a big believer in the members' ownership of Accuro," Kirkland said. "The 'client first' as a distinct foundation gives mutuals a significant edge over shareholder-owned businesses."
According to Guy, the company's board is made up of individuals that bring a mix of medical, financial services and governance experience, making it fit to steer the company towards its goals.
"Accuro staff have worked incredibly well through COVID lockdowns, which continue to impact the medical treatment plans for some of our members," she said. "The board is looking forward to working with the team as Accuro develops its new IT system and addresses complex issues such as cyber resilience and regulatory changes within the financial services industry."