AIG renews New Zealand Rugby contract | Insurance Business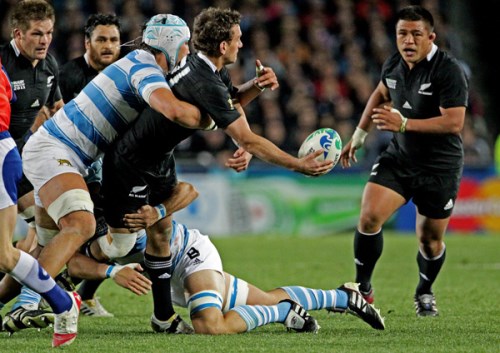 Major insurer American International Group, Inc. (
AIG
) has extended its sponsorship agreement with New Zealand Rugby (NZR), strengthening their existing partnership which began in 2012 and reinforcing their commitment to the global advancement of rugby.
The sponsorship arrangement extends AIG's role as major global sponsor and official insurance partner of New Zealand Rugby and the All Blacks for another six years. AIG will also continue to directly sponsor the All Blacks, the All Blacks Sevens, the Maori All Blacks, the Black Ferns, the Black Ferns Sevens and New Zealand Under 20 teams.
Peter Hancock, AIG president and CEO, said: "We are excited to continue AIG's brand partnership with NZR. Our sponsorship will continue to serve as a valuable marketing tool and as an inspiration for excellence to AIG people."
In the past four years, AIG has promoted rugby in 64 countries around the globe to millions of spectators, such as through world-class events in Beijing, Chicago, Dubai, Dublin, Hong Kong, London, Rio de Janeiro, Tokyo, and Toronto.
In 2012, AIG was awarded Rugby Sponsor of the Year and received the Sport New Zealand Recreation Award for Commercial Partnership; and only four years after, earned the recognition of its peers and fans as Rugby Sponsor of the Decade.
The partnership with AIG has also helped bring great success for NZ teams, with the All Blacks securing back to back Rugby World Cups; the All Blacks Sevens and Black Ferns Sevens winning the Sevens World Cups; World Championship wins for the New Zealand Under 20s; and the Black Ferns Sevens team securing silver in Rio.
Steve Tew, NZR chief executive, also commented on the sponsorship renewal: "We're delighted that AIG has extended their successful partnership with New Zealand Rugby.
"AIG has been a great supporter of our game since coming on board in 2012 and contributed to outstanding results off the field, helping profile our teams throughout the world and showcasing the story and teams of New Zealand rugby to millions of new fans from Chicago to China and further afield."
"This is a very positive step for rugby in New Zealand and ensures critical funding to run and strengthen rugby in New Zealand from the community game through to the high-performance level," Tew said.
Steve Hansen, All Blacks head coach, had this to say about the continuing partnership with AIG: "AIG has been great to work with, taking time to understand our game, our people and our heritage. This already solid foundation will strengthen further so we can continue to grow our game at home and around the world."
Related stories:
Insurer sponsor AIG speaks out on disgraced All Black
Insurer credits NZ rugby for awards win
Insurer QBE secures major rugby sponsorship