Angry insurance customer interactions embraced | Insurance Business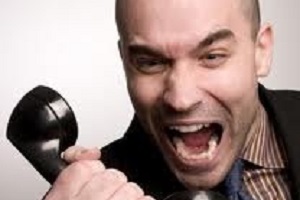 Insurance firms are contributing data on real-life customer interactions to a new learning research project being developed by a New Zealand-based technology firm.
Touchpoint Group is investing over half a million dollars on an artificial intelligence 'machine' which it hopes will help insurance firms, along with banks and telecommunications companies, to defuse explosive encounters with customers.
The trans-Tasman project involves data scientists in Australia and New Zealand uploading the dataset into the platform and tweaking its learning algorithms over the next six months with the expectation that it will be live early next year, Touchpoint Group CEO Frank van der Velden told
Insurance Business
.
Once complete, the project will simulate millions of angry customer interactions that will help companies better understand the behaviours and processes that trigger customer outbursts.
Van der Velden said the research would help with the complex task of understanding how customers were affected by various products, systems, policies, processes and people they interacted with in the lead-up to reaching breaking point.
By constantly running 'what if' scenarios the program, dubbed Radiant, would see if a particular scenario was likely to enrage or benefit the customer.
"Basically we capture the resolutions of the customer issues they have and then try to match those resolutions with the typical issue that comes up.
"So we're leveraging the big data using software to speed up the whole process by coming up with a range of resolutions that can be acted on really quickly.
"That is where that anger can come in, with some customers getting quite extreme, so we're trying to cut out that whole anger thing. It will enhance the learning experience for the people on the front line enabling them to fix the issue a lot more quickly than they can at the moment and will improve the experience for customers."
He said the program would appeal to any companies dealing with customer service complaints, with call centres in particular benefiting.
"Call centres have a 30% or more churn of people so it's a big challenge for managers of call centres to constantly keep that training up to a certain level."
He said that, coupled with the fact that consumers expectations are often ahead of what companies can offer, added to an incredibly competitive environment which could learn a lot from the banking industry.
"We've seen the greatest change in the insurance industry when they've brought across people from banking. But having said that, insurance companies are really bringing themselves up quickly so I take my hat off to them."
The most challenging aspect was turning around years of entrenched behaviour in large companies of thousands of people.
"Attitudes of people are really important. When we go to a company that's got more traditional attitudes, for example, incentivising call centre people to terminate calls at 45 seconds or something, it can take a while to change the attitudes around that to one where it's actually the customer you're supposed to satisfy," van der Velden said.
"It can take up to five years to turn that around and the CEO has to be there right from day one beating the drum constantly that the customer is at the centre of the organisation – and it has to be real, not just rhetoric."