Award winner calls for greater industry diversity | Insurance Business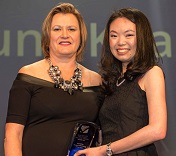 NZI
analyst June Kuan has two good reasons to want to work towards greater diversity in the insurance industry, which have a lot to do with her being an Asian woman.
But Kuan says she echoes the sentiment of her CEO Jacki Johnson on this topic which is the one thing she wishes to change in the industry she is passionate about.
"
IAG
is committed to creating better gender and ethnic diversity at all levels of the organisation including senior management. This commitment to diversity is an important indicator of the type of change that needs to be reflected across our industry to remain relevant to our current and future customers," she told
Insurance Business
.
"I share our CEO Jacki Johnson's belief that an inclusive culture encourages diverse thinking, which ultimately leads to our being able to gain a better understanding of our customers' needs and help us to serve them better."
To demonstrate her commitment to be in a better position to see through this evolution she is a member of several industry organisations, including Young Insurance Professionals and the New Zealand Society of Actuaries.
"I am also a strong member of the New Zealand Chinese and business community," she said.
This dedication was just one of the reasons that saw Kuan – officially titled commercial pricing and portfolio analyst in NZI's commercial pricing & analytics department – awarded the Emerging Young Professional at the NZ insurance industry awards last month.
"Among a very strong field, June stood out for her many and strong examples of leadership and industry professionalism," the judges said.
"She has maintained her education and professional development activities throughout her career, which have enabled her to develop a range of skills that are now being put to use at NZI and in the New Zealand insurance community more broadly."
In her professional scope, Kuan was singled out for leading a trans-Tasman collaboration with Finity Consulting to help NZI implement new product pricing and she also led a project to develop a user-friendly pricing and referral tool.
They also recognised the way she helped promote the insurance industry at University of Auckland post-graduate events.
Winning the award was almost overwhelming for Kuan whose emotional acceptance speech brought smiles around the room.
"It was amazing to see how many people were excited and proud to see me achieve this award," said Kuan. "It made me realise how lucky I am to have so many wonderful people around me, both personally and professionally. This is a great opportunity to thank them for their ongoing support."
Kuan, who studied Statistics at the University of Auckland, said the Christchurch earthquakes gave her a real sense of purpose in her job and cemented her choice of career.
"It confirmed to me my passion for pursuing a career in the industry. It really drove home to me the relevance of my role and the part that insurance plays in safeguarding communities," she said.
In the future, Kuan hopes that working for a company such as IAG may lead to other opportunities in a variety of careers in different locations.
Right now though she says she's happy where she's at.
"At the moment I'm focused on continuing to build up my learning and experience to become a specialist in my field."